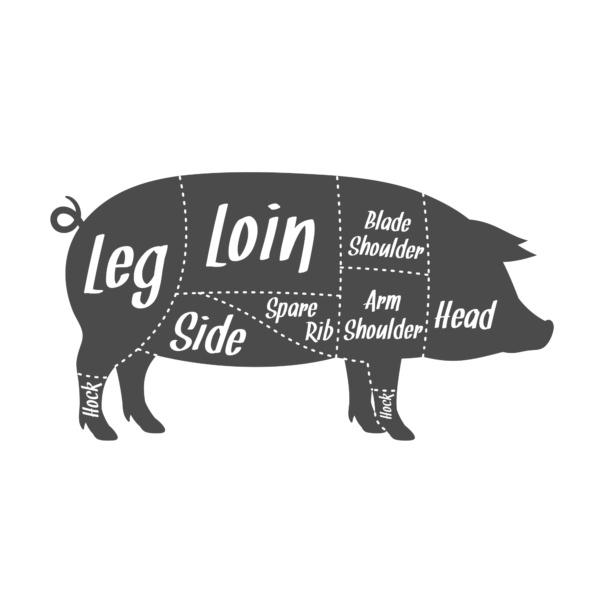 Stemple Creek Ranch Whole Pig
---
---
We are proud to offer our premium Berkshire pigs for sale. Since we only harvest pigs a few times a year, the quantity is very limited and will be sold on a first come, first served basis. The pigs eat a mixture of wheat, sunflower meal, rice bran, flaxseed meal and minerals when not roaming free and rooting around in our Eucalyptus tree groves on our ranch.
We sell our whole pigs by the hanging weight. The hanging weight is the weight of the carcass after the animal is harvested, but before it is butchered. We expect that the hanging weight of our pigs to be 220-280 pounds. There is also some loss of weight once the carcass is butchered, so if you purchase a whole pig that weighed 280 hanging weight, you will receive somewhere around 75-85% of that in finished product. The weight of the finished product will also depend on if you have any of your meat smoked (for example to make bacon).
Whole pigs are $6.00/pound of the hanging weight. Based on the expected hanging weights, that would make a whole pig to be between $1,320-$1,680.
Once you purchase the whole pig from us, you will work with the butcher shop, Bud's Custom Meats, to decide how you want the pork cut and wrapped. You will pay Bud's for the cut and wrap service. Depending on the exact weight of the pig and how much of the meat you want smoked, we estimate that the cut and wrap charges will be in the ball park of $280-$320 for a whole pig.

After the pig is harvested and we know the exact hanging weight, we will collect the balance due from you. Once we collect the balance due, we will have Bud's contact you to discuss the cut and wrap.
Recommended freezer space: 9 cubic feet