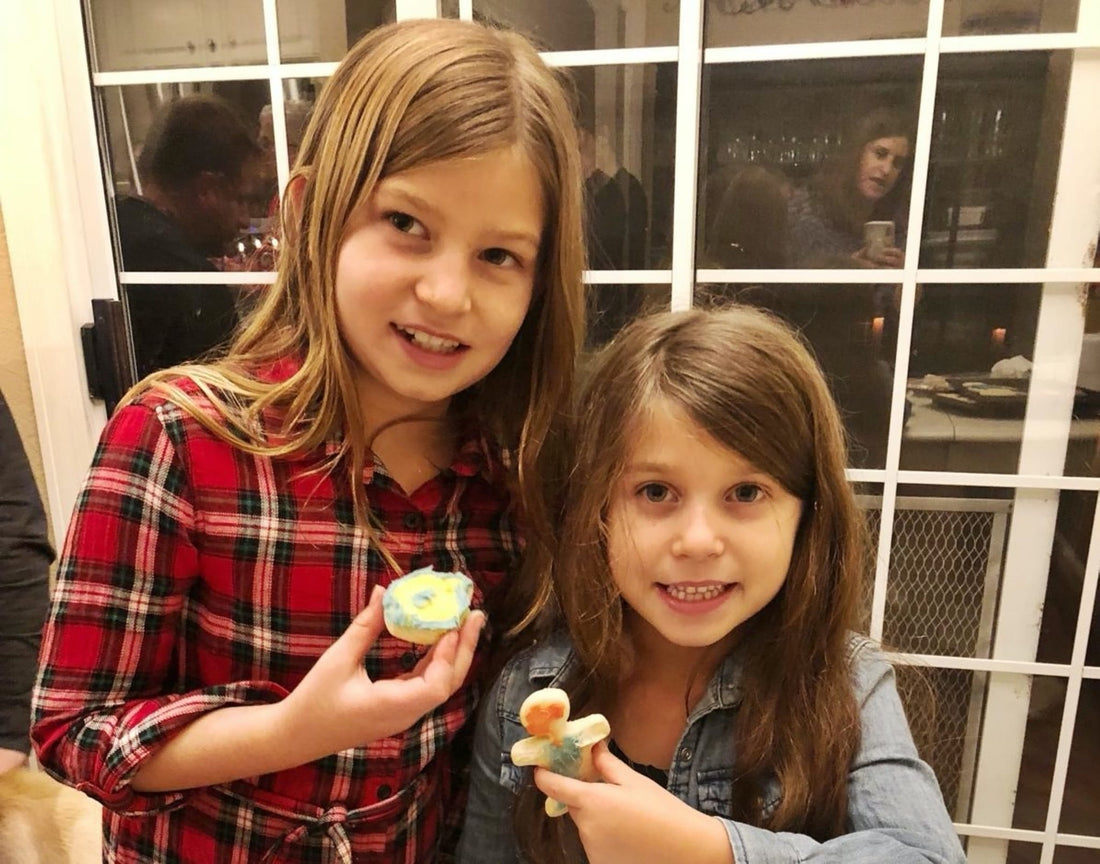 Servings: Makes 3 dozen cookies
Prep Time: 30 minutes
Cook Time: 10 minutes
December in the Poncia household is a marathon affair! As a family with blended traditions, we begin our celebration with Hanukkah, and culminate the festivities with Christmas. One of our favorite holiday activities is baking sugar cookies with our girls. The recipe we use was passed down to us from Marianne Burbank, who lived with her husband Dave on the property next to the Poncia's Home Ranch. The Burbank family has been a part of the West Marin landscape for over 150 years. Marianne ran a preschool on their ranch where Loren, his sisters, and many of the "neighborhood" kids started their learning journey. Loren and Lisa purchased the Burbank Ranch in 2013, and it is now home base to Stemple Creek Ranch! (Fun Fact: we call the farmhouse on the ranch the "School House" because it is the house where Marinanne ran the preschool!)
Marianne's legendary sugar cookies are a long-time Poncia family favorite, and everyone who tries them always want the recipe. The dough is easy to work with, not overly sweet or sticky, and doesn't need to be refrigerated. Topped with a smooth layer of butter icing, they can be enjoyed as is or decorated with sprinkles of your choice.

Ingredients
1 ¼ cups butter
2 cups sugar
2 eggs
5 cups flour
½ cup milk
1 tsp nutmeg
1 tsp salt
4 tsp baking powder
Directions
Preheat oven to 350F.
Cream together butter and sugar.
Add eggs until creamy and smooth.
Add dry ingredients along with milk and mix to form a dough.
Shape the dough into a disk, and place in the center of a lightly floured pastry cloth. Roll out the dough to 1/4" thickness. Cut shapes with cookie cutters and put on an un-greased baking sheet.
Bake 9 minutes on center oven rack until cookies are just beginning to turn brown. Remove from oven and use a spatula to transfer cookies to a cooling rack. Cool completely. Ice with butter frosting and enjoy!
Cooking Notes
For Butter Frosting: 1/3 cup butter (or 2/3 stick), softened, 1 pound powdered sugar, ¼ tsp salt, ¼ cup milk, 1 tsp vanilla. Directions: Combine butter, powdered sugar, and salt in a large mixing bowl. Blend ingredients together with an electric mixer until smooth. Gradually add milk and vanilla. Continue blending until the frosting is creamy. Spread on cooled sugar cookies! *Add a couple drops of food grade coloring for tinted frosting.