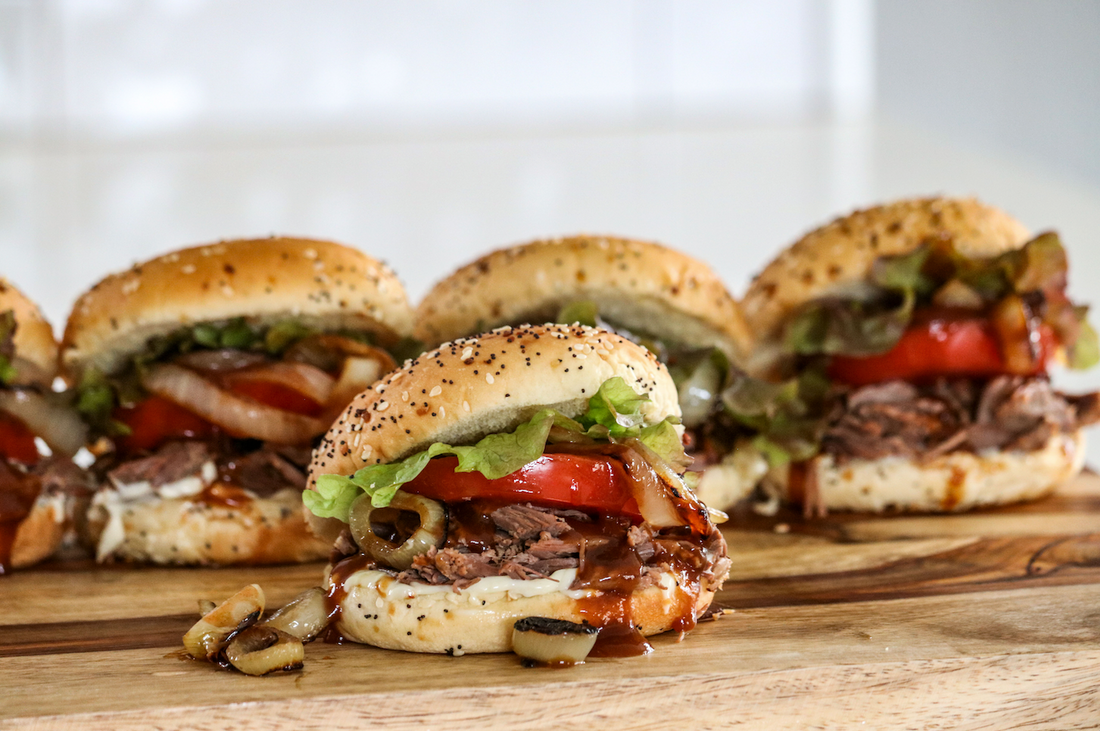 Are you feeding a hungry crowd? These brisket sliders will surely hit the spot!
Our juicy, tender full packer beef brisket is dry rubbed with spices, and oven-roasted overnight "low and slow" for a deliciously shreddable result that's perfect for these tasters (or sandwiches).
Slow Roasted Beef Brisket for Sliders
Ingredients:
Prepared Beef Dry Rub
1/4 cup Worcestershire sauce
2 tbsp Tamari soy sauce (or sub coconut aminos)
2 tbsp aged Balsamic Vinegar
Prepared Beef Stock
Directions:
Preheat oven to 275F.
Line a large roasting pan with foil.
Lay brisket on a cutting board, and trim any excess off the fat cap, leaving a nice even layer of fat on top. Season on all sides with dry rub.
Place seasoned brisket in roasting pan fat cap facing up.
In a small bowl, whisk together Worcestershire, tamari, and balsamic vinegar. Pour evenly over the top of the brisket.
Add Beef Stock to the roasting pan around the brisket (about 2-3 cups)
Cover the roasting pan tightly with foil (keeps the brisket moist as it cooks), and place on center oven rack.
Cook overnight-- (1) hour per pound of brisket, or until internal temperature reaches 200F, basting with juices occasionally as desired. 
Remove from oven and let stand to room temperature. The meat should shred easily when sliced.
For the sliders, you will need: 
2 large sweet onions, sliced and pan caramelized with a little olive oil. 
fresh slicing tomatoes
1 head organic lettuce of choice
mayonnaise
BBQ sauce of choice
slider buns
To assemble: 
Lay open slider buns on a large work surface.
Spread mayo on top and bottom of buns.
Layer bottom bun with shredded brisket, tomato, caramelized onion, and lettuce. Drizzle with BBQ sauce. Add top bun to finish. 
Serve and watch them disappear!