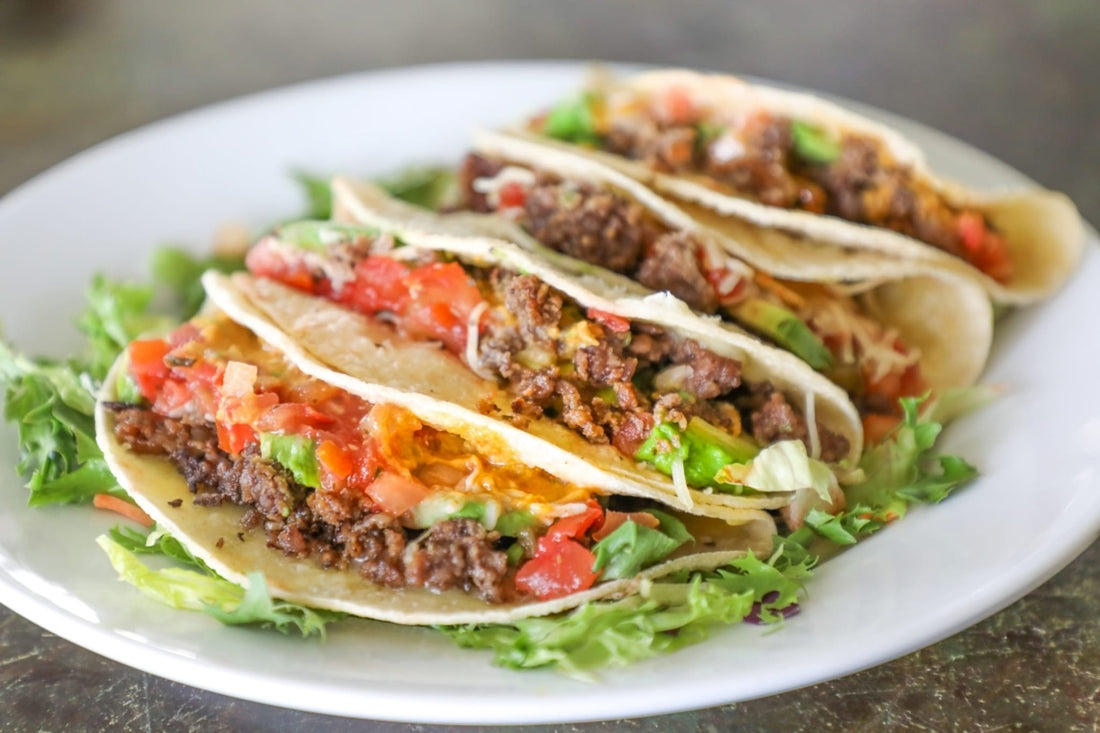 30 Minute Fast & Easy Meal Planner: Ground Beef Soft Tacos
Servings: Serves 4
Prep Time: <30 minutes
Cook Time: <30 minutes
We're making family meal planning a snap with this series of recipes that calls for simple batch cooking at the top of each week! Start with our Grass Fed Ground Beef plus onions and bell peppers. Then simply repurpose these basic ingredients in meals that take 30 minutes or less to prepare. Before you know it you've got three simple, tasty dinners both adults & kids will love!
Purchase our Grass Fed Ground Beef in bulk here.
Ingredients
Prepare these basic recipe ingredients on Sunday by batch cooking as instructed below. Store components separately in the refrigerator, then season and reheat for easy meals throughout the week! Meal inspiration follows:
BASIC BATCH INGREDIENTS:
5 pounds Stemple Creek Ranch Grass Fed Ground Beef
3 large sweet onions, sliced
3 large bell peppers, sliced
6 Tbl. olive oil, divided
GROUND BEEF SOFT TACOS
2 cups pre-cooked ground beef
1-2 Tbl. taco seasoning (to taste)
packaged shredded Mexican cheese blend
salsa of choice
1 large ripe avocado, sliced
shredded lettuce
Add-ons you might like: sour cream, chopped cilantro, slice jalapeño peppers
Soft 9" tortillas, corn or flour (or hard corn shells if preferred).
Directions
TO COOK BATCH INGREDIENTS:
Heat (3) large skillets to medium on the stovetop. Add 3 Tbl. olive oil to (2) skillets.
Add the raw ground beef to the dry skillet and cook, stirring occasionally and breaking up with the edge of a spatula, until meat is crumbled and browned. Remove from heat. Drain any excess fat and let cool.
Add the sliced bell peppers to one of the skillets with olive oil, and sliced onions to the other. Cook and allow to caramelize for about 12-15 minutes, stirring occasionally. If necessary, turn heat to medium-low so onions & peppers don't burn. Remove skillets from heat and let cool.
Place cooked ground beef, caramelized onions, and caramelized bell peppers in separate storage containers. Refrigerate until ready to use.
TO MAKE GROUND BEEF SOFT TACOS:
Reheat 2 cups precooked ground beef in a skillet on medium low heat. Add pre-sauteed onions and taco seasoning to taste. Blend into beef. When warm, spoon into a bowl and set aside.
Create a taco bar with add-ons in individual bowls: soft tortillas, cheese, salsa, avocado, shredded lettuce--whatever your family likes!
Invite everyone to build their own tacos!