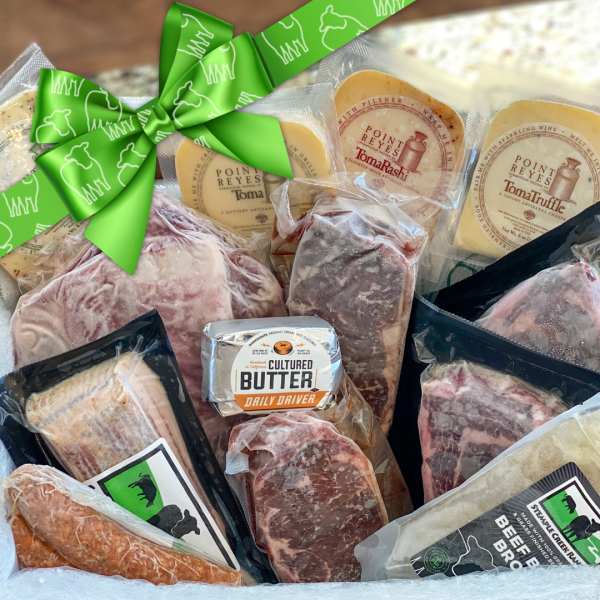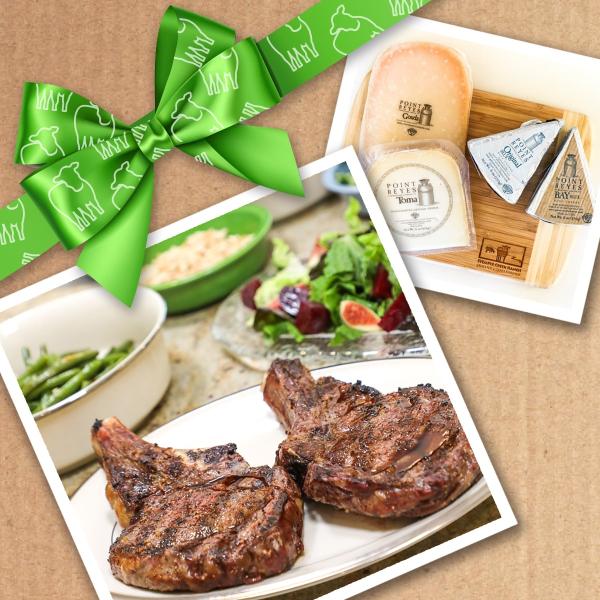 Holiday Harvest Gift Sampler
---
A Harvest to remember! Reflecting the variety and abundance of the harvest season, this gift box gives you a taste of all that Stemple Creek has to offer. Our beef, lamb and pork are raised on organic pastures and are treated with respect and care. Our animal welfare practices are audited and certified through the Global Animal Partnership program. This is how we produce sustainable, high quality animal protein that is delicious and nourishing.
IN ADDITION, we've partnered with our good friends over at Point Reyes Farmstead Cheese Company to offer 2 different "ADD-ON" cheese flights to this gift box. All items will be shipped together to your special someone!
The Point Reyes Toma Cheese Flight $39!*(normally $49) - Original Toma (6 oz.), TomaTruffle (6 oz.), TomaRashi (6 oz.) and TomaProvence (6 oz.)
The Best of Point Reyes Cheese Flight $49!*(normally $59)- Original Blue (6 oz.), Bay Blue (6 oz.), Gouda (5 oz.) and Original Toma (6 oz.)
*Save $10 OFF REGULAR PRICE when bundling a cheese flight with one of these combo boxes. Bought alone the cheese flights are priced: $49 for the Toma Cheese Flight and $59 for The Best of Point Reyes Cheese Flight.
What Do I Get?
1 28-Day Dry Aged Bone-In Beef Cowboy Steaks (28 oz. each)
2 Beef New York Strip Steaks (12 oz. each)
1 pkg. Bone-In Lamb Riblets (2 sets of ribs, 16 oz. each)
1 pkg. Applewood Smoked Pork Bacon (10 oz.)
1 pkg. Pork Andouille Sausages (2 sausages, 5 oz. each)
1 pkg. Beef Bone Broth (16 oz.)
1 pkg. Daily Driver's Green Garlic Butter (4 oz.)
You may also be interested in