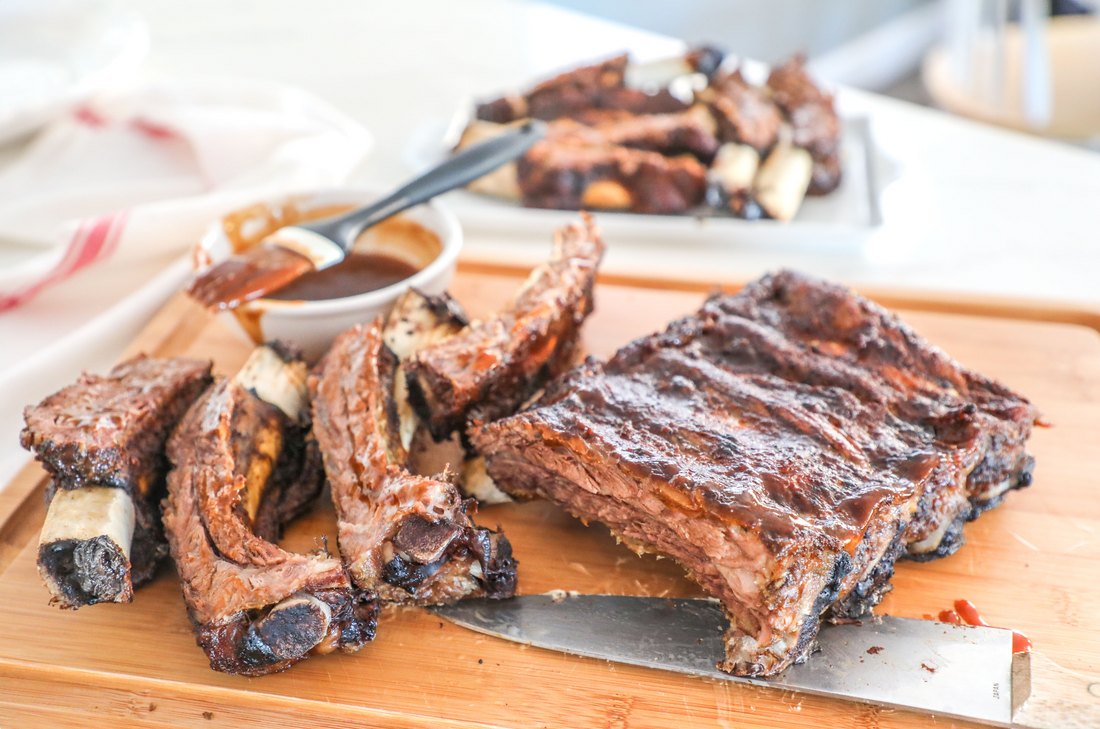 "Fall off the Bone" Oven Roasted Rack of Beef Ribs
Are you a rib lover? Get ready to fall in love with this swoon-worthy recipe featuring our full Beef Rib Rack cooked low and slow in the oven. This easy, no-fail method produces succulent, fall-off-the-bone results every time. Finish with the barbecue sauce of your choice and have plenty of napkins at the ready! 
 (We asked for this recipe from Terrie Ginn who has made these mouthwatering ribs for years, and she graciously shared her secrets with us!)
Ingredients:
Directions:
Preheat oven to 275F degrees.
Rinse and pat the ribs dry with paper towels. 

Use a blunt ended knife to loosen the membrane from the bone side of the ribs (YouTube is helpful here if you've never done this), and peel it off. **t

he membrane can be chewy and prevents seasonings from penetrating the underside of the ribs.

Generously sprinkle dry rub of your choice over both sides of the ribs and massage in well. 
Place the ribs on a rack in a shallow, foil lined baking pan bone side down.  You can put more than one rack of ribs on the pan, depending on the size, or use two separate baking pans.
Cover the pan tightly with foil so no heat can escape during baking.
Bake on center oven rack for 3 hours (if using two pans, rotate pans half way through baking). Remove from oven and leave covered until you are ready to finish them on the barbecue or under a broiler.

When ready, brush the ribs with your favorite barbecue sauce on both sides and t

ransfer the ribs to a grill over direct heat. Grill uncovered for 5-10 minutes then remove, slice and enjoy!  *You can also finish the ribs under a broiler.