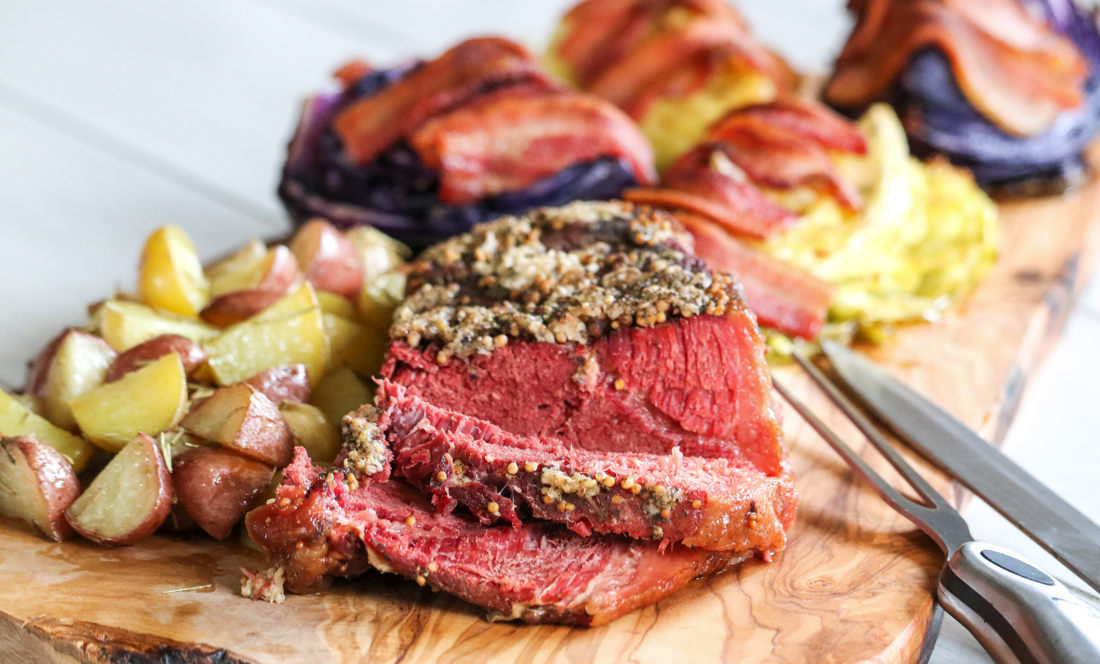 Crusted Corned Beef with Roasted Cabbage, Bacon, and Stout Reduction
Servings: 6
Prep Time: 10 minutes
Cook Time: 8 hours
Bye bye boiled beef and soggy cabbage! This is definitely NOT your grandmother's recipe. This updated twist on the classic Irish dish combines our slow-cooked premium Corned Beef with oven roasted cabbage wedges topped with crispy bacon, and finished with a stout-pomegranate reduction. It's enough to make the Pied Piper stop piping and pull up a chair. To make this recipe Keto, Paleo and Whole30 compliant, simply eliminate the sugar and Stout Reduction Sauce. Click here to purchase our grass fed Corned Beef.
Ingredients
For the Corned Beef:
3 pounds Stemple Creek Grass Fed Corned Beef
6 cloves garlic, minced
2 tbsp sugar
1/2 tsp ground black pepper
2 tbsp cider vinegar
2 bay leaves
water
For the Roasted Cabbage with Bacon:
1 head organic green cabbage
1 head organic purple cabbage
olive oil
sea salt & ground pepper
1 pound Stemple Creek Smoked Applewood Uncured Bacon
For the Pomegranate-Stout Reduction:
1/2 cup stout beer (like Lagunitas Imperial Stout)
1/2 cup pomegranate vinegar
2 Tbsp pomegranate juice
2 Tbsp brown sugar
Directions:
Corned Beef 
Place corned beef, fat side up, in a slow cooker.  Combine garlic, sugar and pepper. Rub on top of the meat.  Place the vinegar and bay leaf in the slow cooker. Add water to the cooker about 1/4 way up the beef (about 1 cup depending on the size of the cooker).  Place lid on the slow cooker and braise on low setting for 8 hours.
 Roasted Cabbage with Bacon and Pomegranate-Stout Reduction
About one (1) hour before the corned beef is done cooking, start preparing the roasted cabbage with bacon and pomegranate-stout reduction.
Preheat oven to 400F. Line a large baking sheet with parchment paper.
Wash cabbage heads. Cut out stem and remove. Cut the cabbages in half, and then into quarters (you will have 4 wedges per cabbage).  Place the wedges on the baking sheet. Brush the surface of each wedge with olive oil. Sprinkle with salt & pepper.
Cut uncooked bacon strips in half. Lay strips over each cabbage wedge to cover the top (3-4 slices per wedge).
Bake on center oven rack for 40-45 minutes or until cabbage is tender, and bacon is crispy (the outer leaves may be a little charred.) While the cabbage roasts, make the reduction sauce. 
Pomegranate-Stout Reduction
In a small saucepan combine the stout, pomegranate vinegar, pomegranate juice, and brown sugar. Simmer on medium-low heat and reduce until sauce is thickened and syrupy (about 12-15 minutes). Remove from heat and set aside.
Remove the Corned Beef from the slow cooker and slice.
Remove roasted cabbages from the oven. Plate the cabbage and drizzle with Stout-Pomegranate reduction.
Serve immediately and enjoy!
Cooking Notes
If the top of the corned beef isn't browned to your liking, put the meat under a broiler for 1-2 minutes.