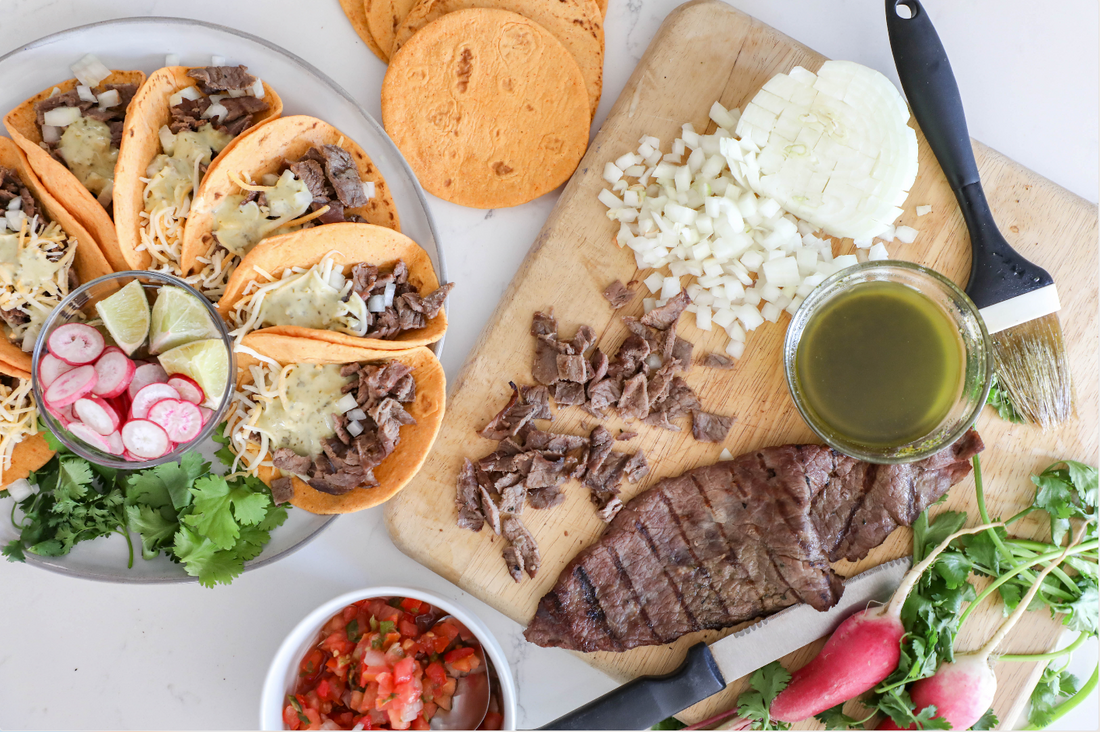 These delicious, easy-to-prepare soft street tacos come together in a flash with our Beef Carne Asada. This quick-cooking cut gets a flavor boost from a simple seven-ingredient marinade, and grills up in just minutes. Serve with prepared soft tortillas of your choice (we used Chipotle-infused here), and a selection of toppings to create a self-serve taco bar dinner! 
Carne Asada Marinade
Ingredients:
1/3 cup Olive Oil
(3) limes, juiced (about 6 tablespoons)
1/2 cup fresh cilantro leaves, chopped
(4) garlic cloves, minced
1 tsp. ground cumin 
1/2 tsp. chili powder
sea salt & fresh ground pepper to taste
Cooking and Taco Assembly Directions:
Place all ingredients (except salt & pepper and the carne asada) in a small bowl and whisk to combine. Taste and season with salt & pepper as desired. 
Place the carne asada in a glass or ceramic container and cover with the marinade (be sure both sides are coated). Cover and marinate for one to four hours. 
Transfer carne asada to a hot grill and cook for 1-2 minutes per side. 
Cut cooked steak into strips, then cube. 
Serve with soft street taco tortillas, and a selection of toppings like diced avocado, diced onion, sliced radishes, diced jalapeño peppers, grated Mexican cheese, pico de gallo, sour cream, chopped cilantro, lime wedges, hot sauce....whatever your taste buds desire!