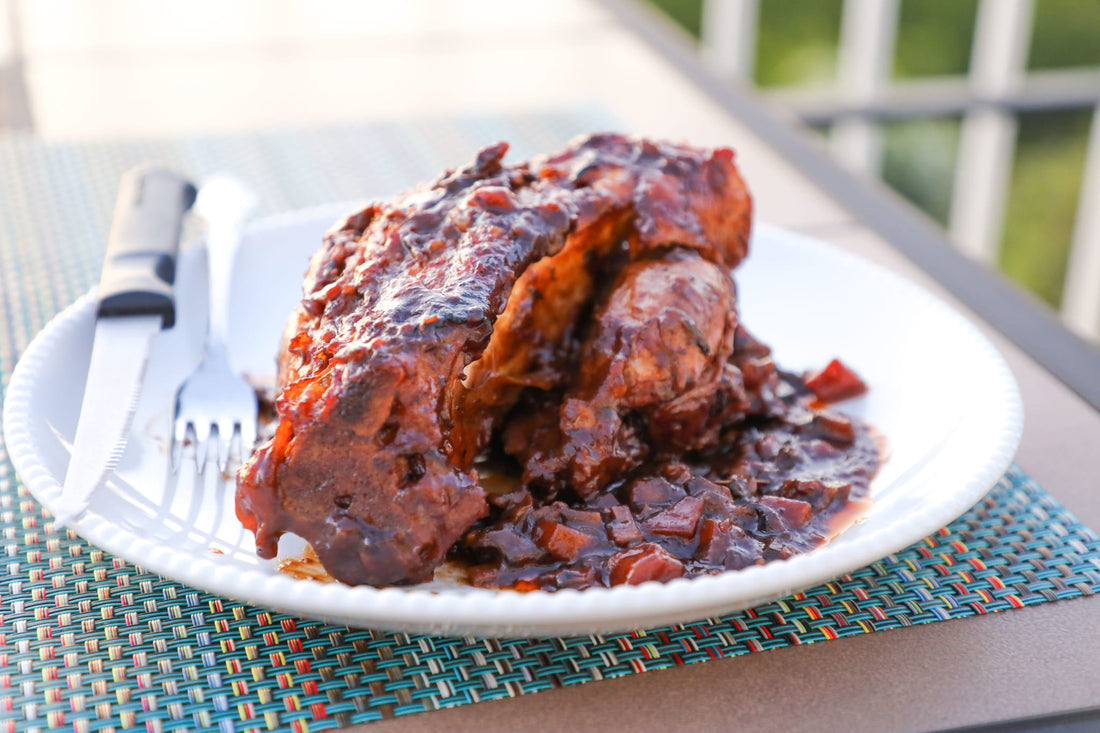 Servings: 6 - 8
Prep Time: 30 minutes
Cook Time: 3 hours
Nothing satisfies a craving for comfort food like braised pork shank. This recipe from Traeger Grills really hits the mark. Our vegetarian fed free range pork gets achingly tender cooked low and slow in the oven (or on the grill) in a bold sauce of stout beer with a secret ingredient: coffee! It's a hearty entree that's best served over a pile of mashed potatoes to sop up every last delicious bite!
Ingredients
2 tablespoons butter, room temp.
2 tablespoons all purpose flour
6 Stemple Creek Ranch pastured pork shanks, rind removed
salt & fresh ground pepper
2 tablespoons vegetable oil
2 large carrots; peeled, trimmed and diced
1 medium onion, diced
1 cup mushrooms, diced
6 cloves garlic, minced
(2) 12oz bottles of dark beer (we used a stout from Lagunitas Brewing Co.)
2 cups beef broth
1 tablespoon Worcestershire sauce
1 tablespoon tomato paste
2 teaspoons chili powder
2 teaspoons instant coffee or espresso granules
2 bay leaves
2 sprigs fresh thyme
Directions
Pre-heat oven to 300F
In a small bowl, thoroughly combine the butter and flour and set aside.
Tie butcher's string around each pork shank to hold the meat together as it braises. Season lightly with salt and pepper.
Heat a Dutch oven over medium-high heat on the stovetop. Add the oil and heat until shimmering. Brown the pork shanks on both sides, working in two batches. Use tongs to transfer the shanks to a plate.
Add the carrots, onion, mushrooms, and garlic to the Dutch oven and saute for 5 to 8 minutes.
Add the beer, beef broth, and Worcestershire sauce and bring to a boil over high heat. Reduce the heat, and simmer until the liquid is reduced by one-third. Stir in the tomato paste, and add the chili powder, coffee, bay leaves, and thyme.
Return the pork shanks to the pan and spoon the sauce over them. Cover with the lid. Place the Dutch oven on the center oven rack and braise for 3 hours. *Alternative cooking method: Heat an outdoor grill to 300F, lid closed, for 10 to 15 minutes. Transfer the Dutch oven with the pork shanks to the grill grate. Cook for 3 hours, or until the pork shanks are tender.
Add the flour/butter mixture to the pan juices during the last 30 minutes to thicken the gravy.
Remove the bay leaves and thyme sprigs from the pot. Transfer the pork shanks to a platter and remove butcher string.
Put each pork shank on a plate. Ladle the gravy over the meat, then sprinkle with fresh parsley if desired. Serve immediately with mashed potatoes!