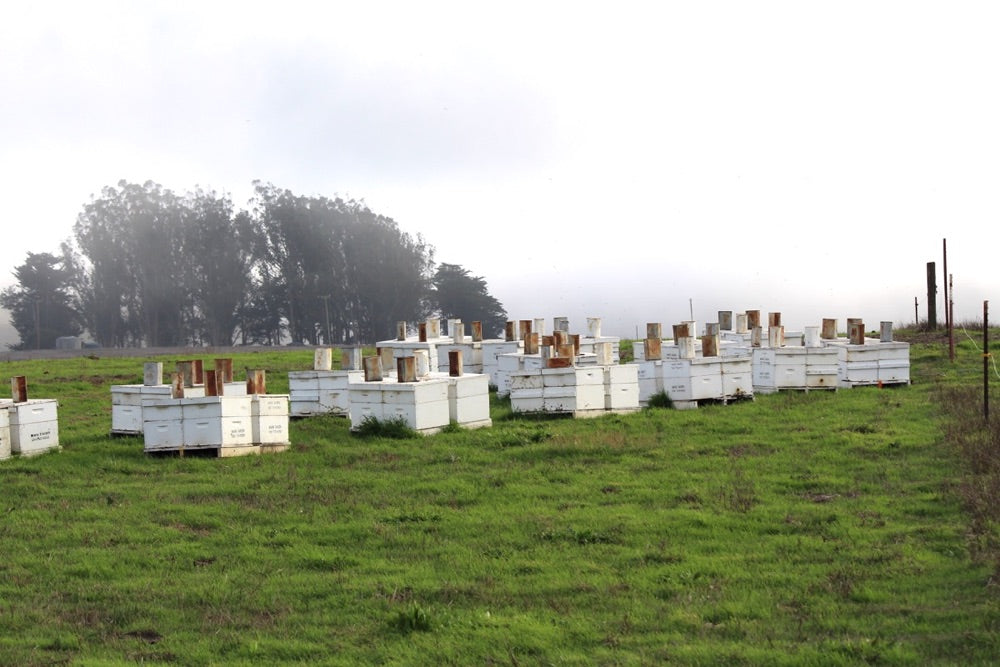 There's a new buzz in the air at our ranch. Amid the sounds of our cattle and sheep, you're likely to hear the whirring of industrious honey bees at work. Two months ago we welcomed a hundred beehives from Tauzer family apiaries, makers of Sola Bee Honey, for a guest stint in our pastures.
Founded in 2011, family-owned Sola Bee Farms is the first eco-friendly honey company to harvest and package their honey in a sustainable manner. Trevor Tauzer, head beekeeper, partners with other family farms and ranches like ours to find temporary "housing" for his hives with fresh forage to keep the bees healthy and happy.
Having Trevor's honey bees on our property promotes biodiversity, and insures we have a flourishing source of pollinators for local crops. Bees are a vital component in our food chain. Roughly one-third of the crops we eat--including fruits, vegetables, and nuts as well as feed grasses like alfalfa and clover--rely on bees for pollination. Without them, the continued well-being of agriculture and our modern food system would be severely compromised. That's why bees are so important!
We are pleased to support Sola Bee Farms as a host family, and share the buzz about their delicious, raw honeys that reflect the distinctive regions and forage where their bees feed. For more information or to place an order, visit the Sola Bee website.