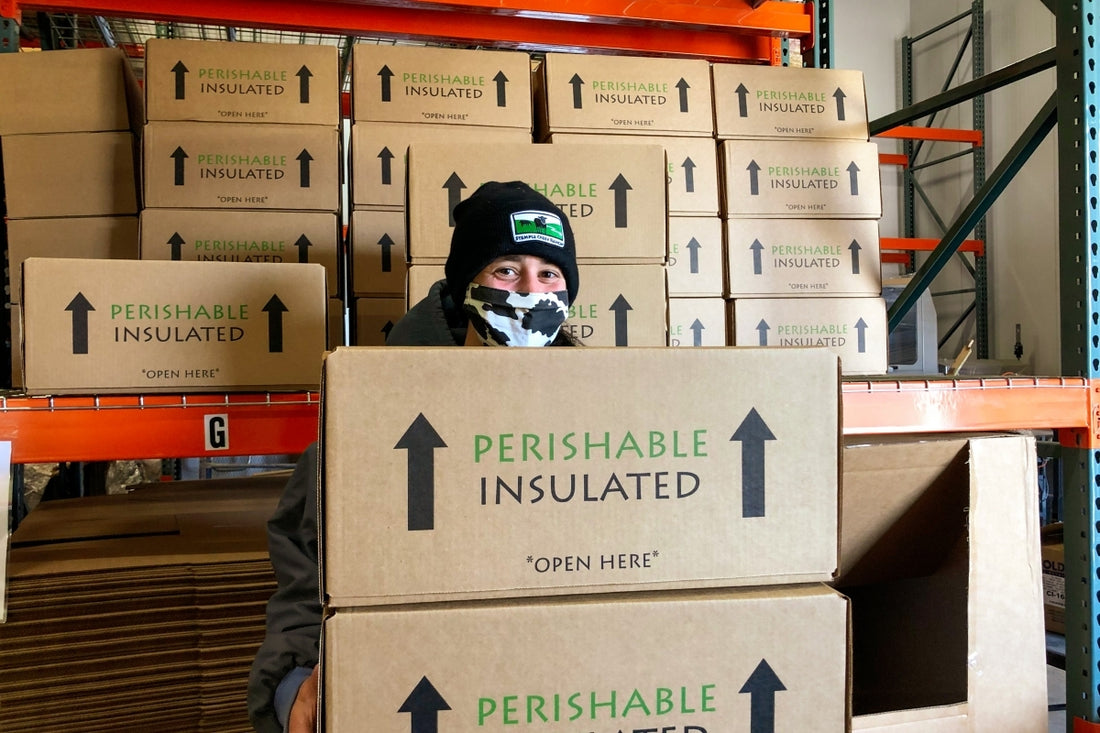 Understanding "Pasture to Plate" - Part Three
Part Three: Shipping Direct to You
For our final post in this three-part series, we share a Q&A focused on a "day in the life" of our shipping team, along with responses to some commonly asked questions from our customers.
Where do you ship? We ship to all 50 states. Orders typically arrive within 1 to 2 days of leaving our shipping facility.
What happens after I place my order? Orders are shipped out from our warehouse every Monday/Tuesday via next day or two-day shipping. That means if you place your order by midnight on Sunday it will likely arrive the same week! Our small shipping team starts their day at 6 am early each week to ensure all orders are processed in a timely fashion. Our goal is to process, pack, and ship your order so that you receive it within 7-10 days of when you placed the order.
Does the meat come fresh or frozen? All our meat is shipped frozen for optimal storage in transit. Fresh and frozen meat is available at our AIM farmers market booth, every Thursday and Sunday year-round, from 8am-1pm at the Marin County Civic Center.


How is the meat packed for shipping? A team member uses each order slip to pull cuts from the warehouse freezer, place them in crates, and carry them to the packing station. Each order is then boxed and packed with dry ice. In keeping with our eco-friendly philosophy, our box liners are made from recycled water bottles, and our cardboard boxes are fully recyclable. Extra ice packs may be added at our discretion to keep the product well chilled during transit. These ice packs provide extra protection in the event of an unexpected delay once the product has left our warehouse facility.

What else comes in my box? Each box includes a sticker with information on the proper handling and disposal of dry ice, as well as instructions for thawing the meat, and recommended cooking temperatures. You will also find an order summary slip, and either a brochure (new customers) or postcard along with a handwritten note of thanks from one of our team members.
Do you track your orders? Yes. We work closely with our shipping companies to track each order, and provide customer support in the event of an unexpected delay in arrival. Customer service is very important to us, and our small team takes great pride in providing a personalized customer experience.

Do you ship whole animals? Yes we do! We can ship half and whole lambs, 1/8th of a pig, and 1/16th and 1/8th of a beef. We also offer our beeves by the half or whole animal with custom cut & wrap, and customer pick-up at partner butcher shops in the North Bay. Click here to learn more about whole animal purchase.
Thank you for supporting our family-owned business by ordering direct from our pastures to your plate!