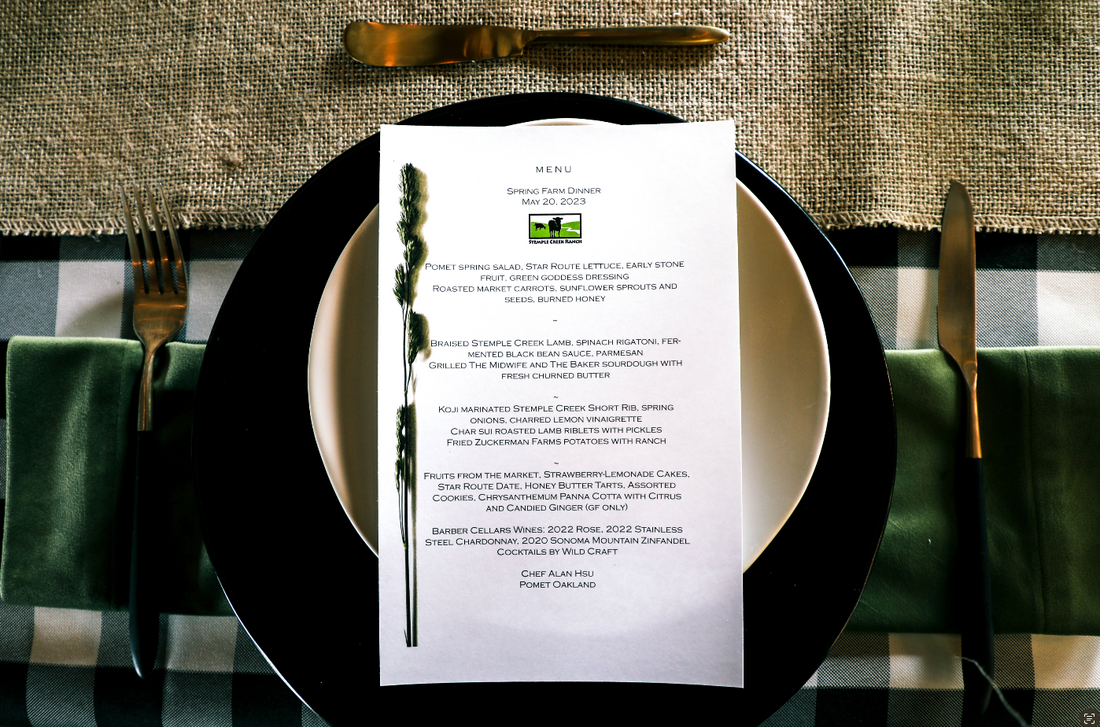 Our Spring Farm Dinner: A Night to Remember
There was a palpable anticipation in the air last Saturday night, as nearly two hundred expectant guests gathered at our beautiful West Marin property to enjoy the annual Stemple Creek Ranch Spring Farm Dinner. The sold out event treated guests to an incredible evening celebrating locavore food with a farm-to-table meal prepared by internationally acclaimed Chef Alan Hsu, and his talented team from Pomet Oakland.
If you missed out on the delicious fun this time, we hope you'll enjoy this tantalizing photo recap (photo credit, Karen Pavone Photography).
The festivities kicked off with leisurely outdoor mingling during cocktail hour featuring handcrafted libations from the ever-popular mixology gals at Wild Craft Wandering Bar, on-the-spot fresh shucked oysters (pulled from Tomales Bay that morning), and passed appetizer trays. Live music was provided by none other than Loren's talented mom, Cathie Poncia. 
Guests then adjourned to the event barn and found their seats at one of our large farm tables for an ovation worthy five-course family style meal (see menu). The conversation was lively as everyone savored dinner paired with local wines from Barber Cellars in Petaluma. 
Loren welcomed guests, introduced Chef Hsu, and thanked the Marin Agricultural Land Trust (MALT) for their support and advocacy in preserving Marin County farmland like ours for agricultural use in perpetuity. Because of MALT, we are able to continue our fourth generation family legacy in agriculture. We are also proud to donate a portion of the dinner's proceeds to Ranchin' Vets--a non-profit run by our friends Kevin & Corey Downs that helps post 911 veterans obtain training and jobs in agriculture. 
Following dinner, guests made their way to the dessert bar for some fabulous sweet finishes, served with coffee and tea.
It was truly an evening to remember! 

About the Chef Alan Hsu

Chef Hsu has worked in kitchens across the globe including high end restaurants in Japan, the Netherlands, and the U.S. (at Blue Hill at Stone Barns in New York and Benu in San Francisco). His work is underscored by a commitment to using sustainably sourced ingredients from farms and ranches that grow food with integrity.


In 2022, Hsu brought that experience with him to Pomet restaurant in Oakland, the latest venture by K&J Orchard owner Aomboon Deasy. There, Hsu emphasizes that it's all about the product. His mission is for Pomet to be an exceptional representation of quality farming and production. "The cooking part becomes easy when you have great relationships with your purveyors and farmers," Hsu explains. He wants his diners to know exactly where their food comes from, and encourages the Bay Area community to learn the importance of treating the land, and those who work it, with respect--a principle we embody at Stemple Creek Ranch.
Thank you, Chef, for bringing your mad culinary talents to our Farm Dinner! 

Thank you to all our vendors! 
Pomet Oakland
Barber Cellars Wines
Wild Craft Wandering Bar
Moonlight Brewing Company
Griffo Distillery & Tasting Bar
Sonoma Brothers Distilling
Dos Piedras Wines
& Encore Event Rentals