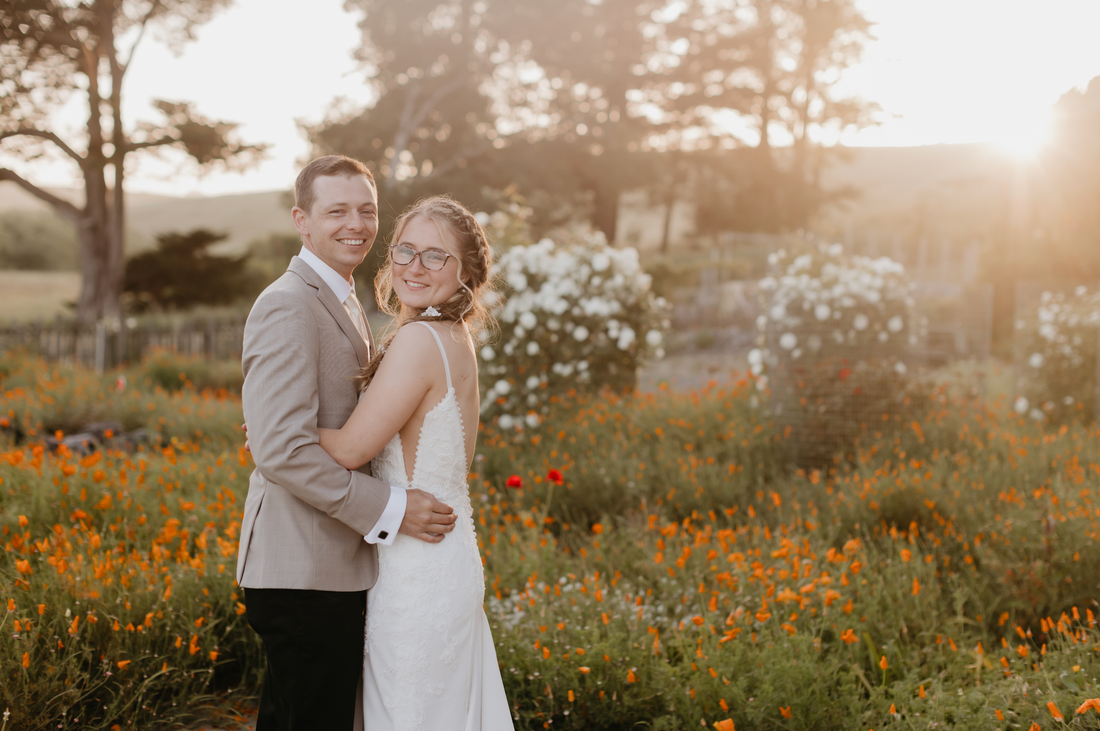 Interview with a Stemple Creek Bride
All photos are by Elizabeth Hay Photography
Interview by Karen Pavone
Are you looking for the perfect wedding location? If you're searching for a beautiful, private setting in the country, complete with lots of amenities, then Stemple Creek Ranch is a dream destination for your special day! We recently sat down with one of our brides, Maddie, to talk about her experience with our wedding venue--from initial planning with our seasoned venue managers (Katie Kraft & Lauren Cadwallader), to the wedding day and reception. We hope her perspective will give you insights about what to expect when you host your wedding at our ranch.
Question: What was the planning process like?
Answer: Katie (one of our venue managers) was amazing from start to finish! She was always helpful, and willing to answer my questions. I could tell she had planned many many weddings at the ranch, and knows what works (and what doesn't) in the various spaces. Both Katie & Lauren were super knowledgeable, helpful, organized and responsive. They're absolute pros at what they do.
Question: How did you select which spaces to use based on your needs?
Answer: Knowing my guest count was important in selecting the perfect ceremony site for us, as well as planning options for our dinner and the reception. Because we got married in June, we wanted everything to be mostly outside. The grounds and gardens are so gorgeous, we didn't really need to do much. We added a few simple touches and it was perfect! There were so many wonderful choices, and we could customize what we wanted so that made it feel really special. And we also had a Plan B in case the weather changed, which was a real plus. We loved being able to choose our ceremony site from the many options available. We settled on the eucalyptus grove overlooking the fields, which was exactly what we wanted.
Question: How was the communication between your wedding coordinator and our site managers?
Answer: Everything went very smoothly! My coordinator did a site tour and several walk throughs with Katie so that everyone was on the same page. Katie answered any questions my coordinator had with regard to set up for the vendors, timing and logistics. She really advocates for the couple, and lends input on what looks pleasing to the eye. She also gave us feedback on what works and what doesn't in the various spaces based on previous experiences, which was very helpful for our planning purposes. She listened to us, and wanted to help us make our ideas come to life! It was great to have both our coordinator to help us with our "day of" schedule, and Katie working with our vendors to ensure everything went smoothly.
Question: What elements of the Ranch did you particularly enjoy?
Answer: The natural beauty was off the charts! Everyone who came said, "WOW, this is SO amazing!" It's definitely got WOW factor! There's been a lot of thought put into how the event space is set up, and they've made several improvements in recent years. I was particularly excited about the cool new indoor bar space, which made cocktail hour set-up a total no-brainer. My guests loved it! It's so unique and a great spot to hang out. We actually took full advantage of using many different spaces around the property, which we loved: the eucalyptus grove for the ceremony, the redwood grove for our dinner service, the "saloon" bar; and the barn for dancing and dessert. And the new bathrooms off the bar are so nice! They're clean and spacious--definitely an improvement over the former portables.
Question: What about the logistics of moving people from place to place on the property? What about people with mobility issues?
Answer: We made it work. It took some forethought to plan parking and accommodations for those who couldn't walk distances. Katie helped direct me, and I communicated with those guests in advance. We had special designated parking, and all-in-all it wasn't that much for me to do. From what I heard later it went fine! Don't let the landscape intimidate you because there are creative solutions for everything. I also did my best to let people know (on our wedding website and in the invitations) what to expect in terms of wearing shoes for walking on uneven ground, and bringing layers because it can get cool at night--that sort of thing.
Question: Were there any special additions you asked for?
Answer: We hired a food truck and gelato cart to come at the end of the night during the reception, which was awesome. We also crafted and brought in our own donut wall instead of having a traditional cake for dessert, which was fun. We really wanted a live band with plenty of room for dancing, and the barn is set up perfectly for that (including the right electrical outputs). It would also be great for a DJ too if someone wanted that instead. The band we hired was a BLAST. That was my favorite part!
Question: Did you incorporate any of our on-site accommodations into your wedding plan?
Answer: Yes! My bridesmaids and I spent the night before the wedding at the School House. It was wonderful to wake up at the Ranch on my wedding day. I was up early and made a cup of coffee and just walked around the grounds kinda chillin' before everything got started. That's another great thing about staying out there. It's so quiet and peaceful! It was the perfect way to begin the day and take time to get in the right mindset. And it was fun and special to be there with my best ladies--it made the "day of" logistics so easy having all of us together. Not every venue offers on-site stays, and we really appreciated having that option.
Question: Any other notes you'd like to share about your experience?
Answer: The ranch has SO many beautiful places with gorgeous natural light for wedding photos! Our photographer was so excited for all the options nearby, and we didn't have to go far from our reception or feel like we were missing out on things. We couldn't be happier with the outcome. They turned out magical!

There you have it! We hope this Q&A is helpful as you consider tying the knot at Stemple Creek Ranch. 
For more information on booking a site tour or securing your date, contact us on the Wedding page of this website, or email us us at hello@stemplecreek.com.