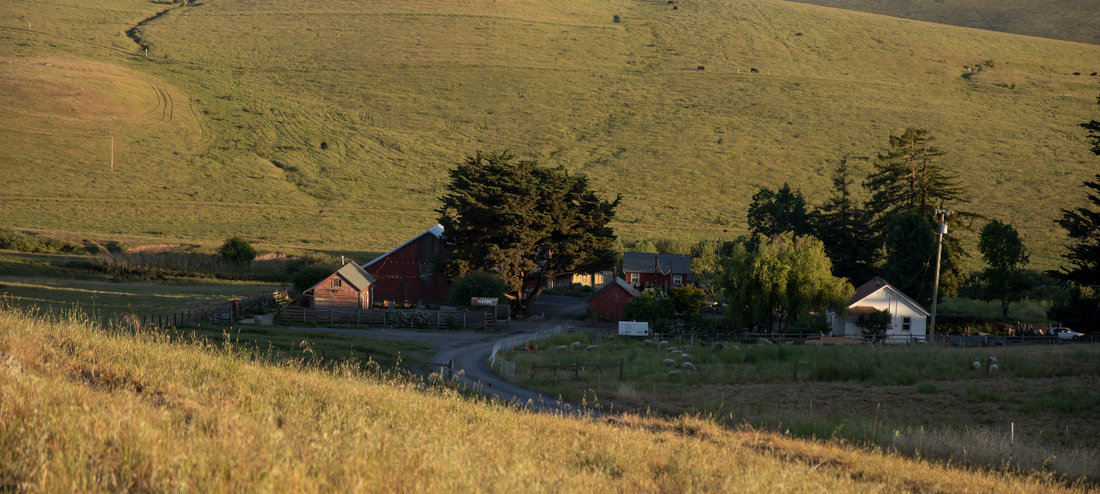 We love sharing our ranch with others just as much as we love enjoying it ourselves. Seeing our land, our animals, and the beautiful West Marin coast through visitors eyes makes all of our work worth doing.
Stemple Creek Ranch is just a few miles from the ocean, the quaint town of Tomales, and the legendary California's Coast Highway (sometimes called Highway 1 or Shoreline Highway). This area is a great home base for exploring Marin, Sonoma, and Napa Counties. Each of our three guest accommodations have beautiful views and a quiet ranch atmosphere. And now, you can view our calendar and book your stay direct on our website with these step-by-step directions:
1. Click on our Events tab in the website header.
2. Choose Ranch Stays.
3. Select your stay (The Schoolhouse, The Cabin or The Writer's Cottage) and click the green "Book Now" button.
4. Scroll down to the calendar to select your month and dates (green is booked; white is available). 
5. Enter your selected Arrival Date and Departure Date in the online form provided.
6. Enter the number of Adult guests and Children, along with your name, email and phone number. Click "Reserve". 
7. Review your stay quote and press, "Looks good! Finish booking."
8. Fill out the personal information page, then proceed to the Renter Agreement. 
9. Review the Terms, enter your name, and click, "I accept. Submit payment."
10. Enter your credit card and billing information. Note: your dates will not be confirmed until you have completed the entire acceptance process. 
11. Click "Continue to confirmation" to process payment and complete the reservation.   
The Farmhouse (AKA The Schoolhouse): This cozy farmhouse at Stemple Creek Ranch is not to be missed. It has two bedrooms, one and half baths, a full kitchen, a quiet yard with a beautiful garden and covered patio, and views of the countryside that stretch for miles. We call it the Schoolhouse because the previous owner ran a preschool in it and Loren (Co-Owner and Rancher at Stemple Creek Ranch) and his sisters went to preschool here! Sleeps up to 6.

The Cabin (AKA The Loveshack): This rustic, cozy cabin has a private deck with BBQ, kitchenette, loft for sleeping, and views of the countryside that stretch for miles. Sleeps up to 4.


The Studio Cottage (AKA The Writer's Cottage): This studio cottage, lovingly called the Writer's Cottage, has a cult following, largely because of the outdoor, private shower! It is a sure sweet retreat. It has a small deck with a BBQ, tiny kitchenette, outdoor shower, and solitude for 1-2 people.


We would love to see you out on the ranch!