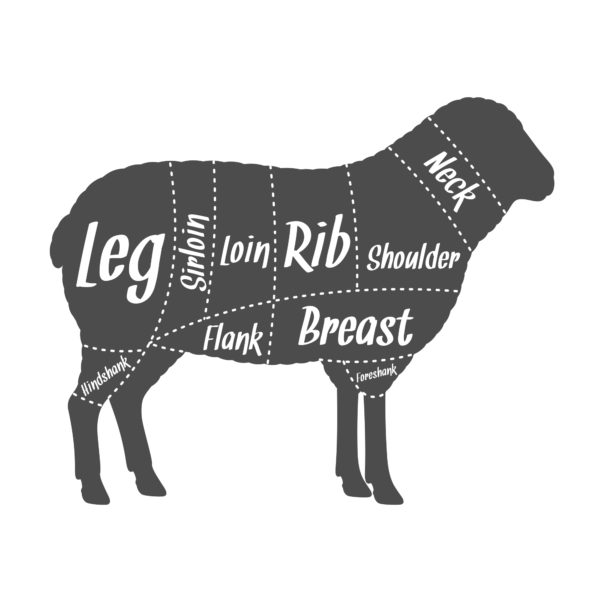 Stemple Creek Ranch Whole Lamb
---
---
Please note: If you choose the option for a whole lamb to be cut and wrapped at Bud's Custom Meats in Penngrove, CA, you will pay us $450 for the whole lamb and then pay Bud's for the custom cut and wrap (approximately $90). If you prefer to pick up the lamb as a whole carcass, you will pay us $450 and pick up at Golden Gate Meat Company in Santa Rosa, CA.

At Stemple Creek Ranch, we raise 100% grass-fed and grass-finished Hampshire and Dorset lamb. Since the very beginning in 2009, we've offered the option to purchase a whole lamb from us. Purchasing a whole lamb gives you the option of going in with family and/or friends to get the highest quality lamb at a much more affordable price per pound.
Depending on how you have Bud's break down your whole lamb, you will get approximately 35-40 pounds of meat and soup bones. For more details on ordering a whole lamb please see the "Ordering Information" section below.

Ordering Information
We harvest our 100% grass-fed and grass-finished lambs year around. It's generally a 4-5 week turnaround from when you place your order online to when everything will be ready for pick up at Bud's Custom Meats.

Bud's will communicate with you directly about the cut and wrap process and an estimated pick up date. You will pay them directly for this service. The cut and wrap on a whole lamb is generally around $90.

If you order a whole lamb and wish to make special arrangements to use another butcher shop, please let us know and we will do our best to accommodate you.

You may also be interested in