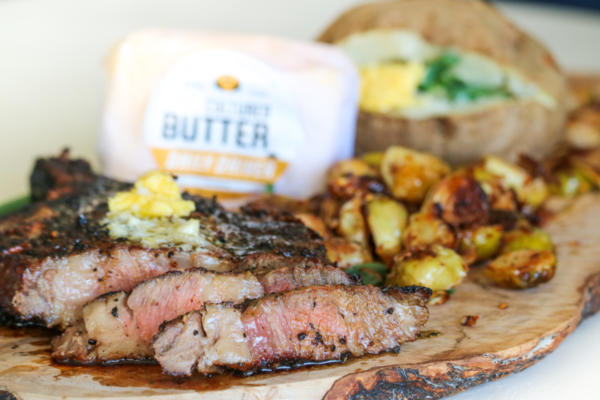 New!
Stemple Creek Ranch Reserve Steak & Green Garlic Butter Box
---
---
We put together a bundle of two of our most popular 100% grass fed and grass finished cuts for your next dinner party or special occasion AND added in a special treat...Green Garlic Butter from Daily Driver!
Daily Driver's Green Garlic Cultured Butter is the perfect finishing touch on either steak. Simply grill to perfection (that's medium-rare), top with a hunk of infused butter, and let sit for 5 minutes before slicing. The flavor of the green garlic and rich, creamy butter is over-the-top delicious---and so, so simple. Just the way we like it.
Green Garlic Butter Ingredients: organic cream, salt, cultures, organic garlic, and citric acid.

What Do I Get?
2 Beef Filet Mignon Steaks (6-7 oz. each)
2 Beef Bone-In Ribeye Steaks (18-20 oz. each)
1 Daily Driver Green Garlic Butter (4 oz.)
You may also be interested in