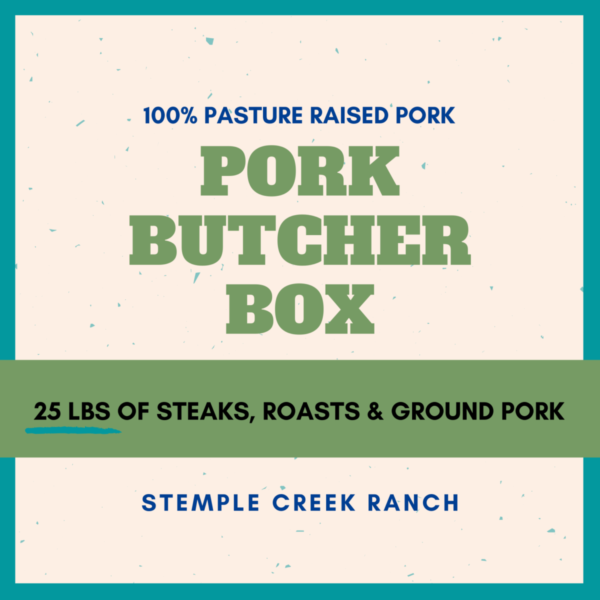 Stemple Creek Ranch Pork Butcher Box
---
---
Our Pork Butcher Box includes approximately 25 pounds of our wonderful 100% pasture raised Berkshire pork. This box is ideal for families to work through over 2 to 3 months.
The approximate breakdown of cuts that you will receive include: 5 pounds of steaks, 8 pounds of roasts, 10 pounds of ground pork, and 2 pounds of other cuts such as jowls and/or cubed stew meat. These estimates depend on availability and we may make substitutions. Each cut will be individually vacuum sealed and labeled with what is inside. The price includes the cut and wrap fees.

Recommended freezer space: 3 cubic feet
What Do I Get?
5 lbs. Pork Steaks (Pork Chop and/or Porterhouse Chop)
8 lbs. Pork Roasts (Butt Roast, Picnic Roast, Belly, Shank and/or Spareribs)
10 lbs. Ground Pork (1 lb. packages)
2 lbs. Other (Jowls and/or Cubed Stew Meat)
2-3 lbs. Pork Soup Bones
You may also be interested in