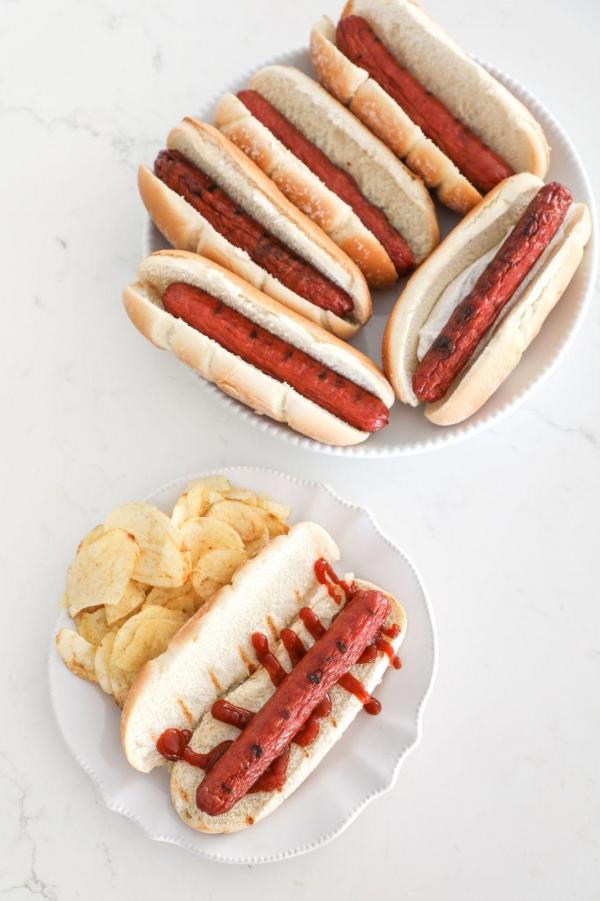 Summer Hot Dog Variety Box
---
For 4th of July only SAVE on all 3 of our Hot Dogs! This variety box includes 2 packages of each of our hot dogs -- the perfect sampler to add to your fridge.

Our NEW 100% grass-fed Classic All Beef Hot Dog links have just nine natural ingredients, and no nitrates or preservatives. This fully cooked, gluten-free link is bun-sized, mild-flavored and delicious whether grilled (our preference), sautéed or boiled. It's a nostalgic American dog that's sure to be a hit with kids and adults alike!

Everyone loves our "original recipe" spiced dogs. These links are perfectly spiced to perfection and are longer and thinner than our Classic All Beef Hotdog, with a denser texture and added seasoning for bigger flavor. Delicious grilled!
After years of sampling and testing different hot dog recipes, we have finally nailed down a beef and cheese hot dog to our liking! We teamed up with Golden Gate Meat Company in Richmond, CA to combine our beef with Point Reyes Farmstead Cheese Company Toma to make this hot dog using our very own 100% grass-fed and grass-finished beef.
What Do I Get?
2 pkg. Classic All Beef Hot Dogs (4 hot dogs per package)
2 pkg. Original Recipe Spiced Hot Dogs (4 hot dogs per package)
2 pkg. Original Toma Cheese Spiced Hot Dogs (4 hot dogs per package)
You may also be interested in