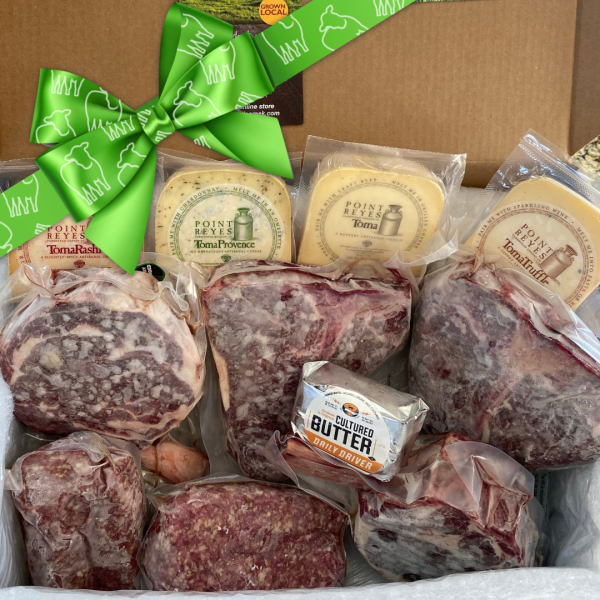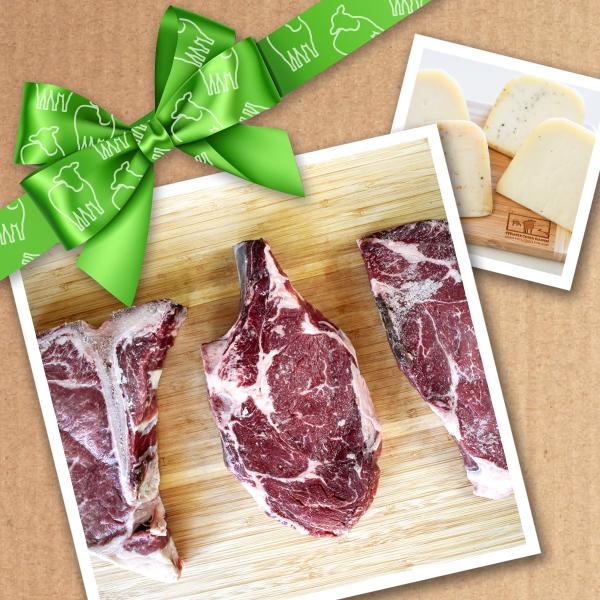 Dry Aged Jingle All The Way
---
Jingle bells beyond expectations! Our dry aged grass-fed beef is a premium offering that's always in high demand. Each steak and the ground beef have been dry aged to succulent perfection for 28-days. When you dry-age beef the naturally present enzymes in the meat break down collagen resulting in beef that is extremely tender. Additionally, beef loses some of its total weight during aging resulting in a richer beefier taste in our dry aged grass -fed sustainably raised beef.
IN ADDITION, we've partnered with our good friends over at Point Reyes Farmstead Cheese Company to offer 2 different "ADD-ON" cheese flights to this gift box. All items will be shipped together to your special someone!
The Point Reyes Toma Cheese Flight $39!*(normally $49) - Original Toma (6 oz.), TomaTruffle (6 oz.), TomaRashi (6 oz.) and TomaProvence (6 oz.)
The Best of Point Reyes Cheese Flight $49!*(normally $59)- Original Blue (6 oz.), Bay Blue (6 oz.), Gouda (5 oz.) and Original Toma (6 oz.)
*Save $10 OFF REGULAR PRICE when bundling a cheese flight with one of these combo boxes. Bought alone the cheese flights are priced: $49 for the Toma Cheese Flight and $59 for The Best of Point Reyes Cheese Flight.
What Do I Get?
1 Dry Aged Bone-In Beef T-Bone Steak (20 oz.)
1 Dry Aged Bone-In Beef Porterhouse Steak (24 oz.)
2 Dry Aged Bone-In Beef Cowboy Steaks (28 oz.)
2 pkgs. Dry Aged Ground Beef (16 oz. each)
1 pkg. Daily Driver's Green Garlic Butter (4 oz.)
You may also be interested in