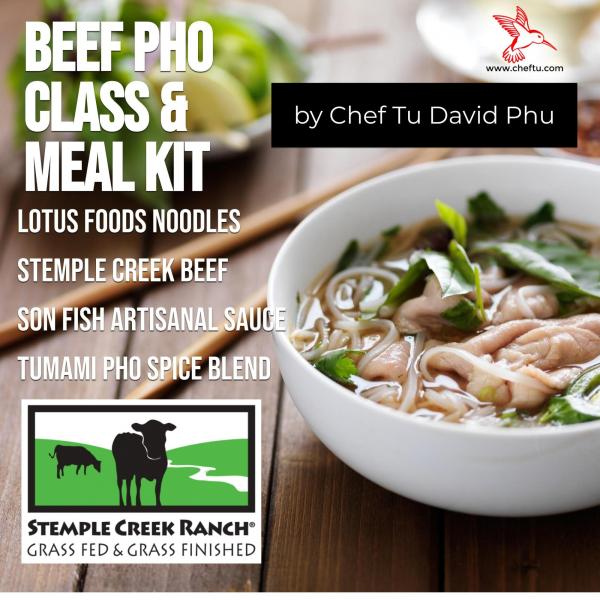 Stemple Creek Ranch Beef Pho Meal Kit
---
---
We've had the amazing opportunity to partner with Chef Tu David Phu on this Beef Pho Meal Kit using our very own Stemple Creek Ranch short ribs. Loren and Lisa Poncia participated as special guests in a virtual cooking class put on by Chef Tu, in making this delicious Pho.

Top Chef Alumni, Tu David Phu, is a Vietnamese-American and SF Chronicle Rising Star Chef from Oakland. His extensive resume has allowed him to work with a wide range of interesting companies; some of his features include (but not limited to) Chef Ambassador for Whole Foods Market, Food TV HOST.
This kit is designed to make 5-7 servings and will include the Pad Thai Noodles, Son Fish Artisanal Sauce, Tumami Pho Spice Blend, 128 oz. of Stemple Creek Ranch Bone Broth and 5 lbs of Stemple Creek Ranch Bone-In Short Ribs. The Pad Thai Noodles, Son Fish Sauce and Tumami Pho Spice Blend are all shelf stable (to be kept a room temperature) and short ribs can be frozen until you are ready to defrost and use them for this recipe. The kit also INCLUDES A RECIPE CARD with cooking instructions.
Other basic essentials that you will need (not included in this Meal Kit):

Bean Sprouts
Scallions
Lemon/Lime
Hoisin
Sriracha
What Do I Get?
5 lbs. of Beef Short Ribs
128 oz. of Beef Bone Broth (8 packages)
2 Packs of Pad Thai Noodles
2 Packs of Tumami Pho Spice Blend
1 Bottle of Son Fish Artisanal Sauce
You may also be interested in