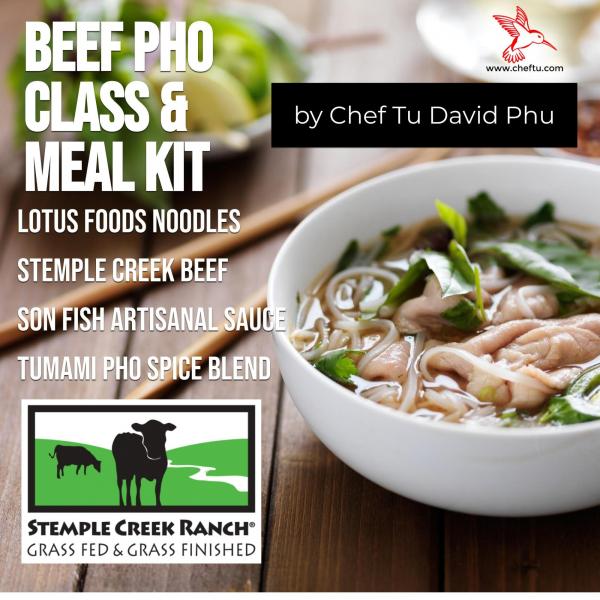 Stemple Creek Ranch Beef Pho Meal Kit
---
---
We've had the amazing opportunity to partner with Chef Tu David Phu on this Beef Pho Meal Kit using our very own Stemple Creek Ranch short ribs. Join us in a virtual cooking class*, with Chef Tu, and special guests Loren and Lisa Poncia of Stemple Creek Ranch, in making this delicious Pho.

Top Chef Alumni, Tu David Phu, is a Vietnamese-American and SF Chronicle Rising Star Chef from Oakland. His extensive resume has allowed him to work with a wide range of interesting companies; some of his features include (but not limited to) Chef Ambassador for Whole Foods Market, Food TV HOST.
This kit is designed to make 10-12 servings (kit has enough for 2 Pho recipes!) and will include the Pad Thai Noodles, Son Fish Artisanal Sauce, Tumami Pho Spice Blend, and 10 lbs of Stemple Creek Ranch Bone-In Short Ribs. The Pad Thai Noodles, Son Fish Sauce and Tumami Pho Spice Blend are all shelf stable (to be kept a room temperature) and short ribs can be frozen until you are ready to defrost and use them for this recipe. The kit also INCLUDES A RECIPE CARD with cooking instructions.
Other basic essentials that you will need (not included in the Meal Kit):

Beef or Chicken Broth
Bean Sprouts
Scallions
Lemon/Lime
Hoisin
Sriracha
*Note: A link to the virtual cooking class will be emailed to you on the day that your order is shipped.

You may also be interested in