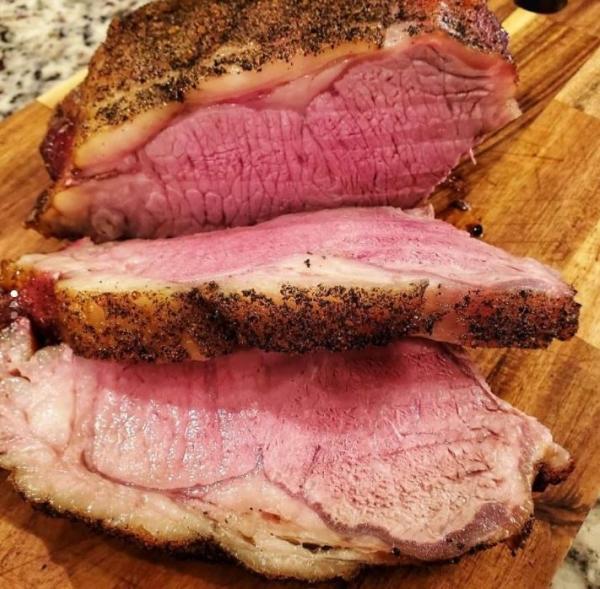 Pre-order
Stemple Creek Ranch Holiday Pre-Order Beef New York Strip Loin Roast (CHOOSE YOUR DATE)
---
---
*** Please pre-order your holiday roast(s) in a separate checkout from any additional meat you'd like to receive ASAP. ***
Beef New York Strip Loin Roast - $199
Our beautiful 100% grass-fed and grass-finished Beef New York Strip Loin Roasts are crowd-pleasers. All the flavor and fat you love on a New York Strip Steak in a roast! Strip loin is a tender cut with a nice buttery flavor and texture. Pair with Yorkshire pudding for a delicious traditional holiday meal.
Size: 8-9 lbs.

Pre-Order Ship Date Options
We will ship your roast on the Monday that you select. Transit times are typically 1-3 days depending on your location. Your roast will arrive frozen, so you'll want to plan ahead to properly defrost and account for any possible shipping delays.
Below are the shipping date options. Select your preferred date in the dropdown menu above.

November 15th - Recommended for Thanksgiving & Hannukah (ETA 11/16 - 11/18)
November 22nd - Recommended for Hannukah (ETA 11/23 - 11/25)
November 29th - Recommended for End of Hannukah (ETA 11/30 - 12/1)
December 6th - (ETA 12/7 - 12/9)
December 13th - Recommended for Christmas & NYE (ETA 12/14 - 12/16)
You may also be interested in