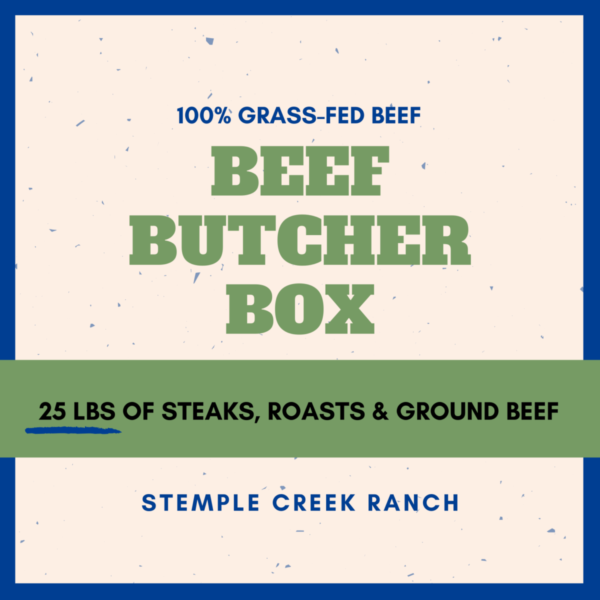 Stemple Creek Ranch Beef Butcher Box
---
---
Rather start a Monthly Subscription for this Product?!
Do you love this product so much that you want it regularly? Start a monthly subscription for Beef Butcher Box, and it will show up at your door each and every month!
Learn More and Start Your Subscription Now!
---
Our Beef Butcher Box includes approximately 25 pounds of our wonderful 100% grass-fed and grass-finished beef. This box is ideal for families to work through over 1 to 2 months.
The approximate breakdown of cuts that you will receive include: 5 pounds of steaks, 8 pounds of roasts, 10 pounds of ground beef, and 2 pounds of other cuts such as korean short ribs, carne asada, cubed stew meat and/or fajita strips. These estimates depend on availability and we may make substitutions. Each cut will be individually vacuum sealed and labeled with what is inside. The price includes the cut and wrap fees.

Recommended freezer space: 1.5 cubic feet
What Do I Get?
5 lbs. Beef Steaks (Top Sirloin, Coulotte, London Broil, Flank, Skirt, Flat Iron, Petite Tender, Bavette and/or Tri Tip)
8 lbs. Beef Roasts (Chuck Roast, Eye of Round Roast, Cross Rib Roast, Shank, Brisket and/or Short Ribs)
10 lbs. Ground Beef (1 lb. packages)
2 lbs. Other (Korean Short Ribs, Carne Asada, Cubed Stew Meat and/or Fajita Strips)
2-3 lbs. Beef Soup Bones (Knuckle and/or Meaty Neck)
You may also be interested in