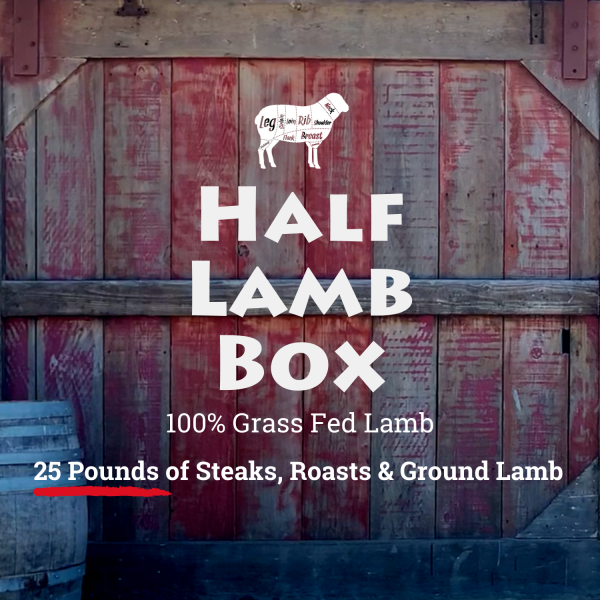 Stemple Creek Ranch 1/2 Lamb Box
---
---
Rather start a Monthly Subscription for this Product?!
Do you love this product so much that you want it regularly? Start a monthly subscription for our 1/2 Lamb Box, and it will show up at your door each and every month!
Learn More and Start Your Subscription Now!
---
We raise all 100% grass-fed and grass-finished lamb at Stemple Creek Ranch. Our Hampshire and Dorset lambs are never given any antibiotics or growth promotants and are all raised on open pastures.
Our 1/2 Lamb Box (aka our Lamb Butcher Box) includes the following breakdown of cuts: 10 pounds of steaks, 10 pounds of roasts, 5 pounds of ground lamb, 2 packages of lamb merguez sausage links, and 1 bag of lamb bones. These estimates depend on availability and we may make substitutions. Each cut will be individually vacuum sealed and labeled with what is inside.
What Do I Get?
10 lbs. Lamb Steaks (Rack, Shoulder Blade Chop, Loin Chop, Leg Steak)
10 lbs. Lamb Roasts (Shoulder Roast, Leg Roast, Sirloin Roast, Neck Roast, Shank, Denver Rib, Cubed Stew Meat)
5 lbs. Ground Lamb (1 lb. packages)
2 pkgs. Lamb Merguez Sausage (10 oz. packages)
1 pkg. Lamb Bones (3 lb. package)
You may also be interested in