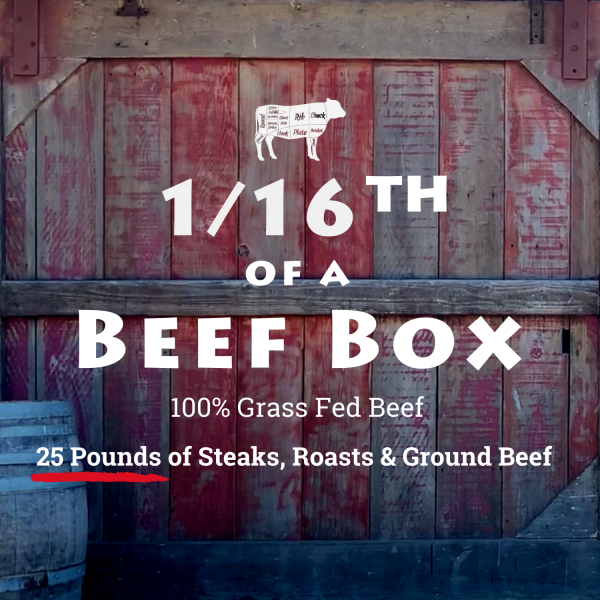 Stemple Creek Ranch 1/16 Beef Box
---
---
Rather start a Monthly Subscription for this Product?!
Do you love this product so much that you want it regularly? Start a monthly subscription for our 1/16 Beef Box, and it will show up at your door each and every month!
Learn More and Start Your Subscription Now!
---
Our 1/16 Beef Box (aka our Beef Butcher Box) includes approximately 25 pounds of our wonderful 100% grass-fed and grass-finished beef.
The approximate breakdown of cuts that you will receive include: 6 pounds of steaks, 7 pounds of roasts, 10 pounds of ground beef, and 2 pounds of other cuts such as korean short ribs, carne asada, cubed stew meat and/or cubed kabob meat. These estimates depend on availability and we may make substitutions. Each cut will be individually vacuum sealed and labeled with what is inside.

What Do I Get?
6 lbs. Beef Steaks (Ribeye, New York Strip, Filet, Top Sirloin, Coulotte, Flank, Skirt, Spider, Flat Iron, Petite Tender, Bavette, Hanger and/or Tri Tip)
7 lbs. Beef Roasts (Chuck Roast, Cross Rib Roast, Shank, Brisket and/or Short Ribs)
10 lbs. Ground Beef (1 lb. packages)
2 lbs. Other (Korean Short Ribs, Carne Asada, Cubed Stew Meat and/or Cubed Kabob Meat)
You may also be interested in