Print Recipe
Homemade Beef Corn Dogs
Create the nostalgia of this county fair favorite in your kitchen with this Homemade Corn Dog recipe. Our flavorful 100% grass fed Beef Hot Dogs get a coating of organic corn meal batter (made all the better with a little of our local honey mixed in). Then we quick fried them on a stick to crunchy golden deliciousness! Serve room temp with classic sides of ketchup and mustard, and your whole family will be clamoring for more! *Original recipe from NatashasKitchen.com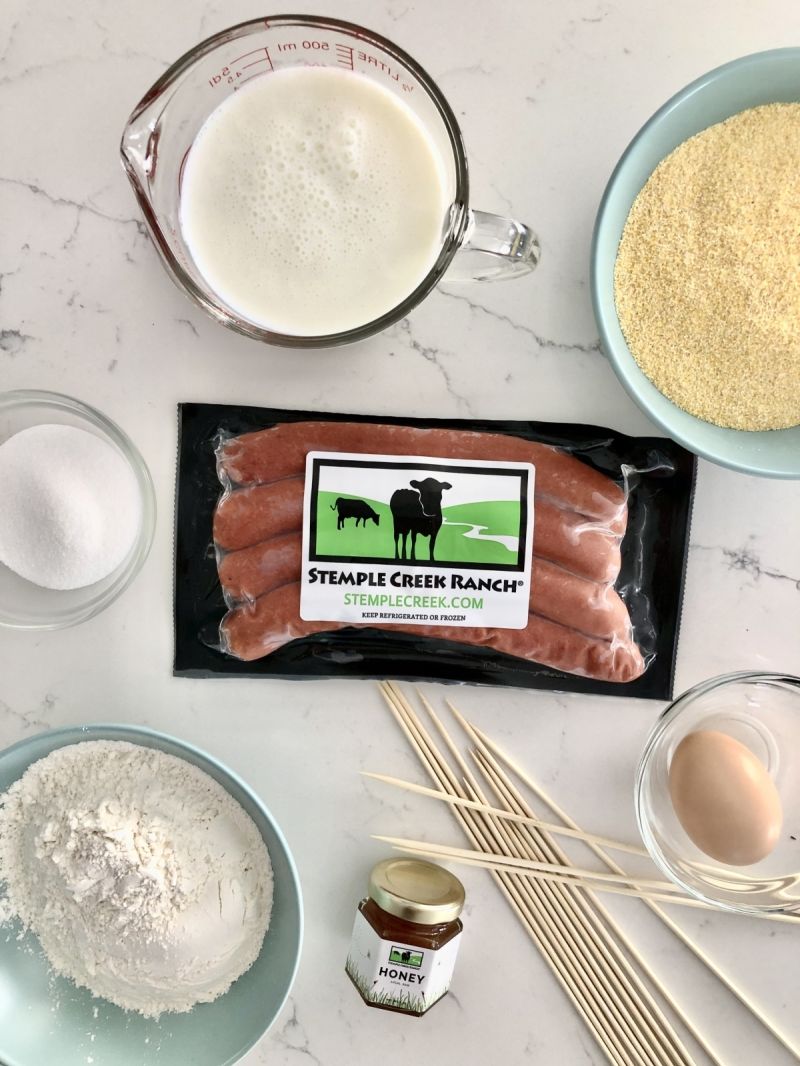 Start with our 100% grass fed Beef Hot Dogs.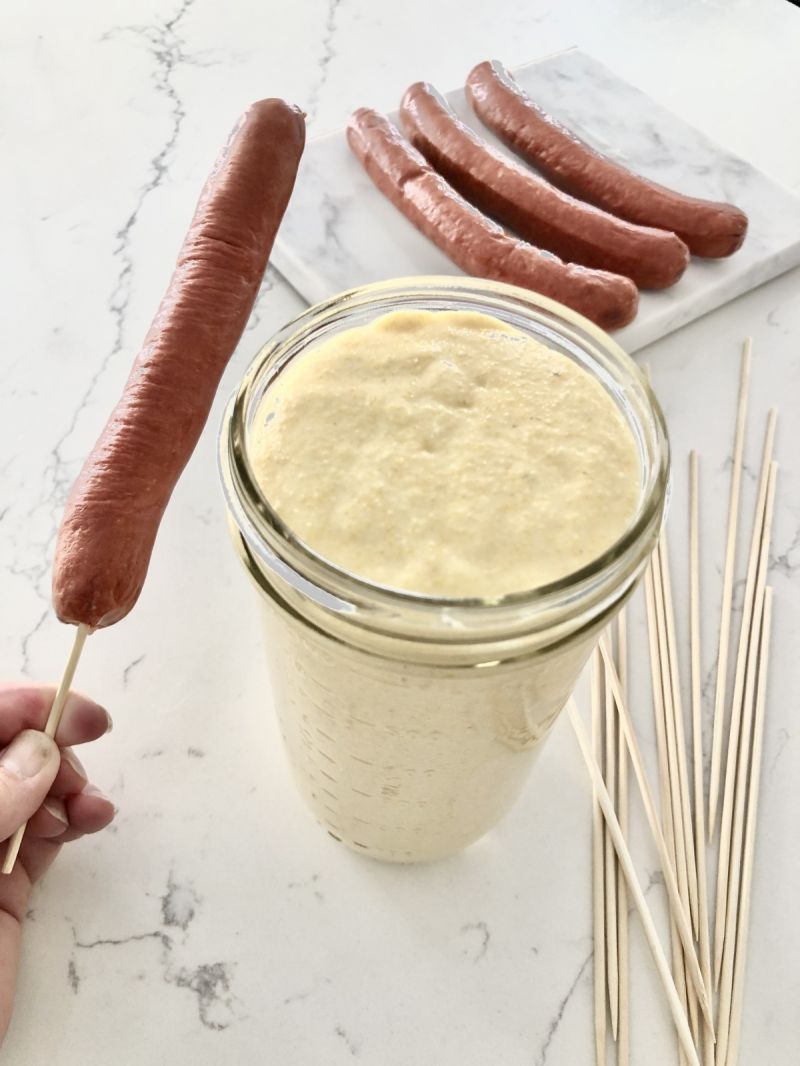 Skewer each hot dog and dip straight down in a tall, wide mouth mason jar filled with the batter.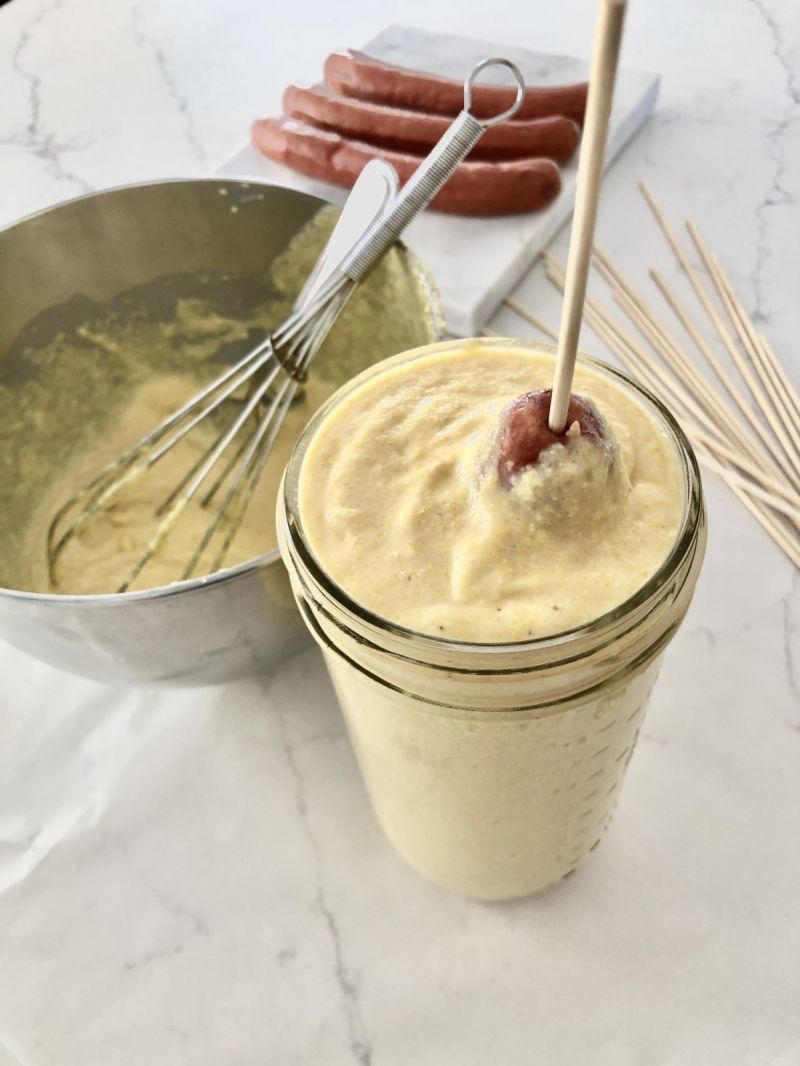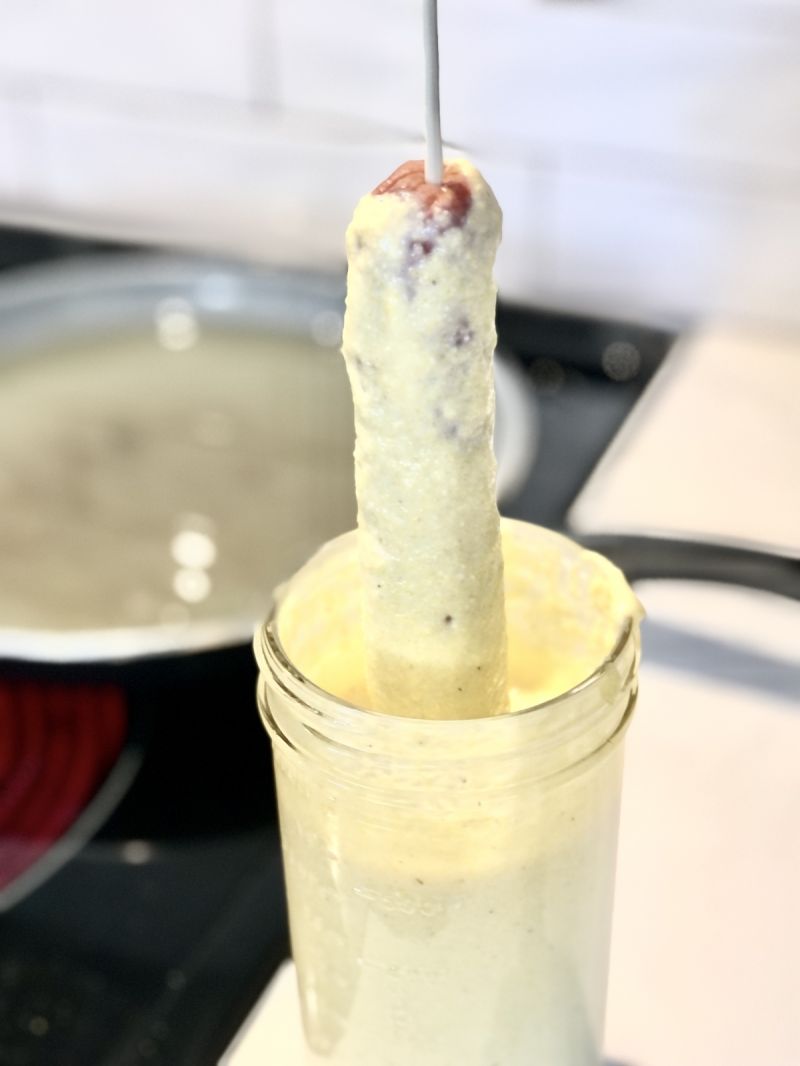 Gently pull submerged corn dog out of the batter, turning the dog in the batter as you go. Allow excess batter to drip back into the jar.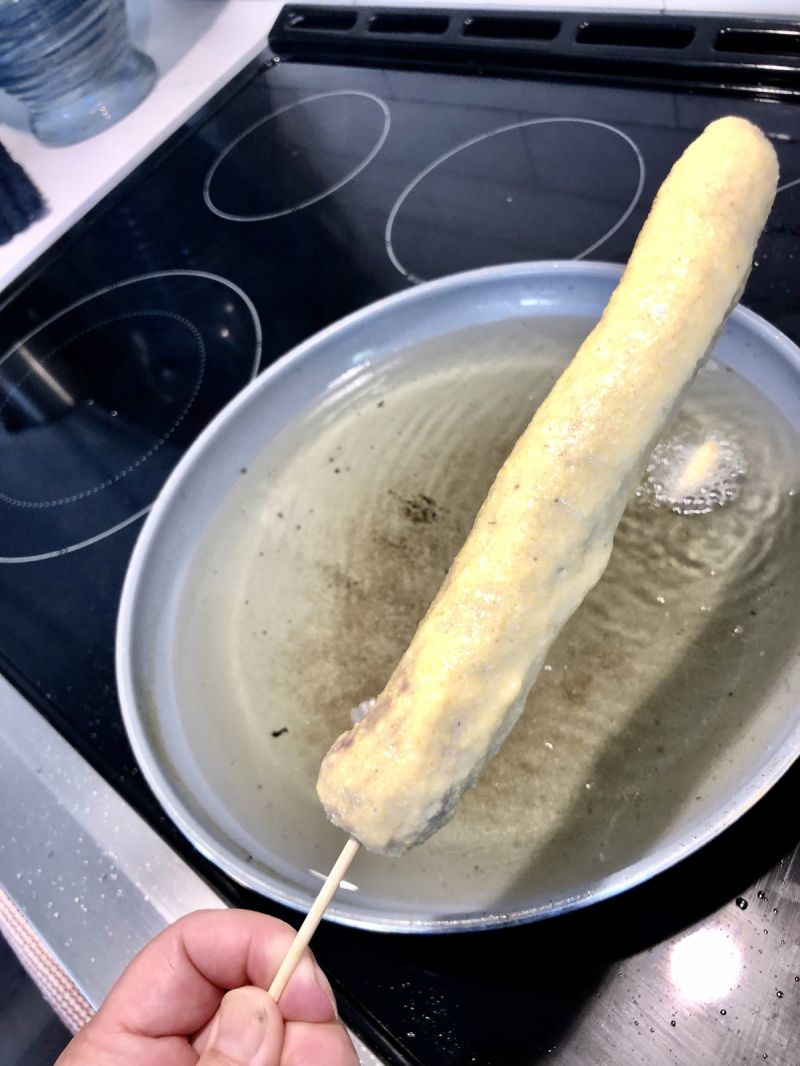 Gently lower battered corndog into the hot oil.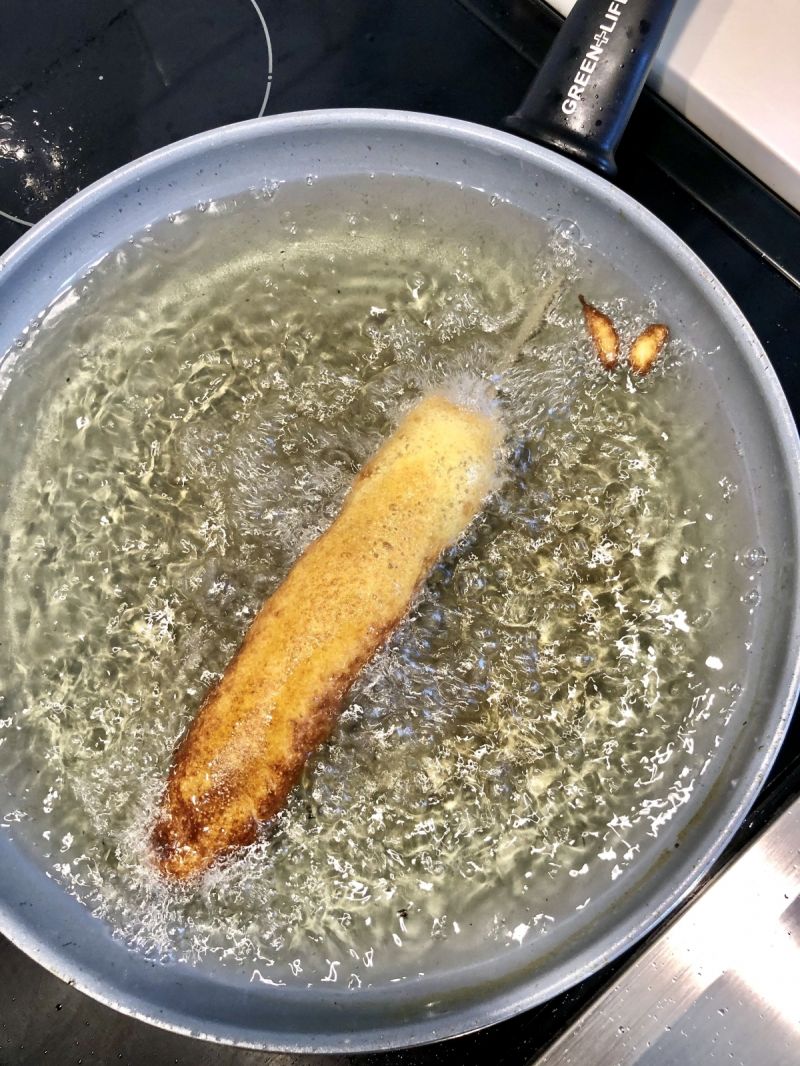 Fry while turning with metal tongs until all sides are golden brown. Watch closely!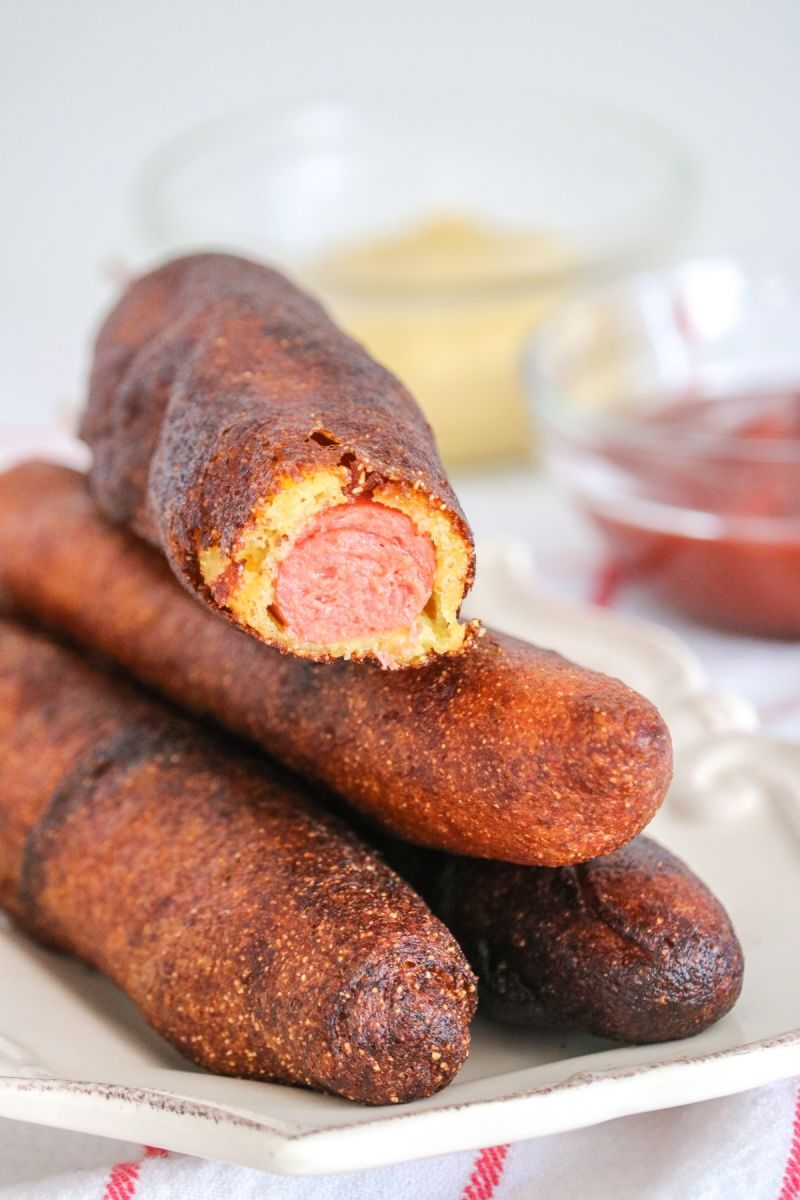 Cool, dip, bite and enjoy!
INGREDIENTS
(2) four packs Stemple Creek Ranch Grass Fed Beef Hotdogs
1 1/2 cups organic fine ground yellow corn meal
1 1/4 cups all purpose flour
1/4 cup sugar
1 TBL. baking powder
1/4 tsp. salt
1 3/4 cups buttermilk
1 large egg
1 TBL. organic vegetable oil (we like avocado oil)
1 TBL. Stemple Creek Ranch Honey
package of 10" wood skewers
(1) wide mouth, 2.5 cup capacity Ball jar
(1) 33.8 ounce bottle high smoke point vegetable oil for frying (we like Chosen Foods Organic Avocado Oil)
metal tongs
INSTRUCTIONS
In a medium mixing bowl, whisk together all dry ingredients (corn meal, flour, sugar, baking powder, and salt).
In a small mixing bowl, whisk all wet ingredients together (buttermilk, egg, (1) TBL. oil and honey).
Pour batter into a tall (2.5 cup) wide mouth Ball jar, leaving about an inch of room below the top rim.
Pour the entire bottle of vegetable oil into a large non-stick fry pan. Oil should be about 2" to 3" deep. Heat on medium-high until hot--about 350F.
Thread (1) hotdog lengthwise on a wooden skewer. Repeat with remaining hotdogs.
Holding the stick end, submerge each hot dog straight down into the batter. You may spoon a little batter around the bottom edge if necessary. Twirl the hotdog as you slowly lift from the batter for even coverage. Let excess batter drip off.
Holding the stick end, gently place battered hotdog into the hot oil. Fry quickly (ready in less than a minute), turning constantly, until golden brown. *The batter will foam up a little and immediate begin to brown. Use metal tongs to grasp the wooden skewer and gently turn the corndog in the hot oil. These cook FAST, so watch very closely or the batter will burn. We recommend cooking only one or two at a time.
Use tongs to removed the golden brown corndogs from the hot oil, and transfer immediate to a wire rack with a paper towel underneath to cool.
Serve room temperature with ketchup and mustard for dipping! These are "summer on a stick."
COOKING NOTES: *You will have enough batter to make (8) corndogs. Once cooled, they can be frozen and reheated whenever the craving strikes!
Print Recipe